The singer was held yesterday over a Shs20m debt.
She borrowed the money on behalf of her Nigerian lover, a one Franklin.
When they got disagreements, he left the country, leaving her in debt.
The scandal of singer Desire Luzinda's arrest yesterday is more than meets the eye.
The singer was picked from Wandegeya and taken to High Court to answer charges of failure to honour a Shs20 m debt that was lent to her by money lender Peter Mugwanya.
Luzinda had to pay Shs10m yesterday to avoid spending the night in the coolers.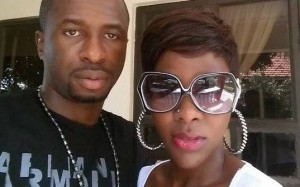 She was held at 9am but only secured the money in the evening after frantic calls to many of her friends yielded no fruit.
It even prompted the court bailiff, Moses Mutesasira who held her to taunt her as a broke celeb.
"She is broke. She was calling everyone and they were turning her down," he said.
"I was looking for her from October 23. She was on the run and had switched off her phones until I tracked her down in a room where she was hiding in Wandegeya," Mutesasira said.
Luzinda secured Shs10m from several sources and temporality got off the hook. Some media outlets have reported that one of her close friends, former Kampala Mayor Hajji Nasser Ntege Sebagala aka Seya gave her the Shs10m but that's not true.
"No, it wasn't Seya who bailed us out. It was from other friends," a reliable source in Luzinda's camp who requested anonymity told us.
Our source also put it straight that the money was not borrowed to finance her recent concert as some media outlets speculated.
"Desire borrowed the money after the concert. She borrowed it on behalf of her Nigerian "close friend" a one Franklin."
"They later got misunderstandings with Franklin and he refused to pay the money," our source said.
At the time of writing this, Desire was locked in a meeting with her creditors to discuss a payment plan for the remaining Shs10m.