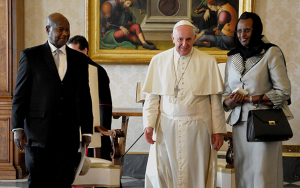 President Yoweri Museveni has expressed disappointment at way Ugandan media publishes speculative news. This was after it was reported that Pope Francis had agreed to visit Uganda to attend the 50th anniversary of the canonization of the Uganda Martyrs next year.
Museveni accompanied by the First Lady Janet Museveni and other officials visited the Pope in the Vatican last Monday and His Holiness expressed his eagerness to visit Uganda though no such a visit was confirmed.
"Why do the newspapers and, I imagine, the radios and Televisions (TVs) in Uganda like to be inaccurate, mendacious and speculative in their reporting? Why do you not insist on proven facts before you air or you put in print any news item?" Museveni expressed his agitation in press release from State House.
The president said he wrote to the Pope on 26th August 2014, inviting him to attend the 50th anniversary of the canonization and he reiterated his invitation on meeting the pontiff.
"I also brought up other points that I would not like to go into here as well, because our meeting was private and not a public rally," Museveni wrote.
"He answered that he is going to Africa next year and may include Uganda in the visit.
However, the final itinerary had not been made."
"As I was leaving, he said, with his characteristic humility, that I should pray for him so that he is able to visit Uganda. I said that, not only would I pray for him, but that, I would ask all Ugandans to pray for him and for the visit," said President Museveni.
Museveni's summary of the visit
1. I have, on behalf of Uganda, invited His Holiness Pope Francis to visit Uganda so as to celebrate with us the 50th canonization of the Uganda Martyrs in 1964.
2. I was informed that definitely the Pope will visit Africa next year because he has already visited some other parts of the world (Asia, the Middle East, Albania, etc., etc.) but not Africa yet.
3. That, however, the detailed programme of his African visit is not yet made or concluded.
4. That Uganda may be included and His Holiness asked me to pray for him so that he visits Uganda. I am going to start praying about it and I ask all of you to pray for His Holiness to visit Uganda.
5. I pointed out to the Vatican Secretary of State, Cardinal Paralin, that although two previous Popes have visited Uganda before, Uganda is unique by being the land of the African Martyrs and also, apparently, the point of the greatest concentration of saints; moreover, these martyrs are not regarded as mere Ugandan. As you normally witness on the 3rd of June, Martyrs Day, Africans come from Tanzania, Kenya, Rwanda, Burundi, Congo DR, Malawi, Nigeria, South Sudan, Cameroon, etc. etc. The martyrs are, therefore, not merely Ugandan; they are African and International.
Therefore, dear inaccurate press of Uganda, those are the facts on the subject of His Holiness's possible visit to Uganda next year 2015.