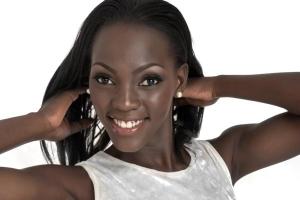 Barely two weeks after her crowning as Uganda's beauty queen, Leah Kalanguka is gearing for the Miss World beauty pageant that will take place in London this December. The Miss World organisation held an interview with her for her promo page and she speaks well of Uganda. It has been reproduced below.
23 year old Leah lives in Bugolobi Flats. Already a graduate with a BA in Computer Engineering, she is studying further, with the ambitions of becoming a powerful influential computer engineer in Uganda, with plans of developing programmes which can revolutionise the agricultural industry of Uganda. Aside from her career ambitions, Leah likes to sing and dance, and her favourite sports are volleyball and swimming.
"My country Uganda is a beautiful place blessed with the best warm climate and fertile soils that favor the agriculture sector. With all the beautiful green vegetation and lakes we are the Pearl of Africa."
Question Time With Leah
What website could you not live without and why?
I would not do without Wikipedia because it gives quick information to certain ideas I may lack knowledge to.
What is the best app you've used in the last year?
WhatsApp, because here in my country it has made it very easy for me to communicate with my friends and family.
Favourite music?
I like to listen to Inspirational Gospel Music.
What is your favourite fashion website?
FlipZone
Favourite food?
My favourite food is rice and chicken.
What annoys you most about the world you live in?
What annoys me most about the world I live in is the fact that people have failed to love each other as they love themselves.
Source: www.missworld.org