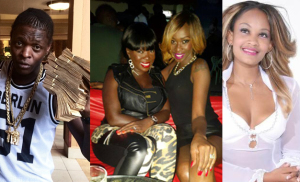 It is going to be an epic battle for revellers come Thursday 18th December. Singer Jose Chameleone will be at Serena holding his One Man One Million concert. Zari will be holding her annual White Party at Guvnor on the same day and Sue O'chola De Roy will be holding their Arab Money party.
Problem is that they are all targeting the same party animals who love to show off, so we can't wait to see how the day turns out and report the proceedings to you our Matooke Republicans.
Chameleone's show dubbed One Man One Million has a hefty cover charge of Shs1m per head but Chameleone has already sold several tickets to moneyed fellas. His event will be at the Kampala Serena Hotel.
The Arab Money party will be held at Cayenne in Bukoto and the cover charge is Shs70,000 per head. On the cards are DJ Afri Kid from USA and homeboy DJ Apeman. Tina Kapp, dubbed as an international belly dancer from SA will also perform.
Zari's annual All White party that is sponsored by Ciroc will be at Guvnor. Cover charge is Shs30,000 and the main attraction will be Diamond Platinumz from Tanzania.
Where will you be on December 18? That's the question.