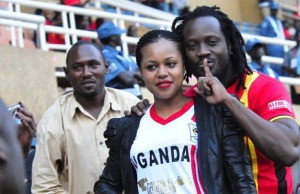 Most Ugandans are angry at Uganda Cranes for losing away to Guinea when all they need to qualify for the Africa Cup of Nations, for the first time in 37 years was a draw.
Many are calling for the immediate retirement of captain Andy Mwesigwa whose defensive blunders led two the two goals, one of them a penalty, after Mwesigwa was given a red card for trying to bring down a Guinea striker rugby style.
But Uganda Cranes ambassador singer Bebe Cool is 100 per cent pehind the team and promises that "they" will always be behind the team.
Check out his Facebook post after the heartbreaking loss.