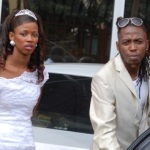 Love Portion singer Rabadaba changed his Facebook status from married to "in an open relationship" yesterday.
This forced people to comment with some congratulating him. He however said "I'm single and searching bitches," in one of the comments.
When we contacted him for a comment, Rabadaba said someone hacked into his account. He said that the hackers had started abusing Shiella, the mother of his two babies.
It should be noted that Rabadaba's relationship with his wife Shiella Ferguson has been a difficult one for the past couple of years. They are in a long distance relationship with Shiella residing in the UK with his kids.
Raba later posted confirming that his account had been act and he use swear words for the person who hacked into his account. Below is his post.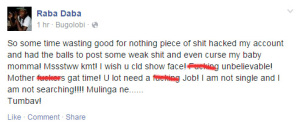 Raba is one of the actors in the upcoming series Beneath The Lies that will begin airing on Urban TV this December.