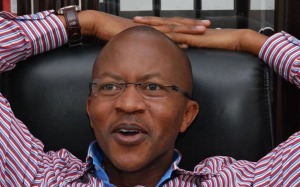 If there is someone people love to hate, it is acid tongued motor mouth Frank Gashumba. The outspoken social critic has lashed out at his haters, saying he will start paying attention to them the day their opinions start paying his bills.
"Many years ago, I used to care what people thought about me until one day I tried to pay my bills with their opinions," Gashumba said.
"Jobless Ugandans, haters, idlers name it, every time I put up a post on my page, they wouldn't read my post to internalise it but only to attack me and my family, when attacks don't work for them, they resort to telling lies. I pity you the jobless, don't study me because you don't graduate," said.
Gashumba bragged that he has over 58,000 Facebook followers and he has never invited anyone to follow his page and he wonders why haters follow his account.
And he says he now has a solution for them. Anyone saying negative things against him and his family will be deleted.
"You the failures in life, now Facebook has come up with an application called PAGE MANAGER where it has a provision of deleting and banning someone permanently and I have started using it. You post your rubbish and nonsense and personal attacks, I delete and ban you right away," he said.
"I will welcome any positive criticism or debate on my wall not those who advertise their stupidity, ignorance, rural urban excitement and poverty stricken mindset."
"I won't force anyone to like me or love me, I will force them to leave me and whoever insists on staying is the one I need in this struggle to liberate the mindset of Uganda," Gashumba said.
"You love me, I love you. You hate me, I hate you. I don't care and revenge is my game," he warned.