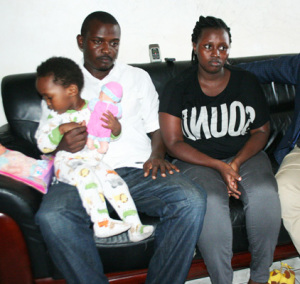 The mother of the Nella Kamanzi, the baby girl who was battered by a brutal maid says she trusted her and didn't think she could such an inhuman thing.
A video of the house girl, Jolly Tumuhiirwe, 22, slapping the baby, throwing her to the ground and flogging her with a torch before she stomped her helpless body with her adult weight went viral after it was shared by the family as evidence to prosecute the evil maid in a Nakawa court on Thursday.
Mrs Angella Mbabazi says, "The camera had always been there, but there is a way this girl had won my trust. I used to come home nga the kids are fed and sometimes sleeping. The house was always clean and she was quiet and seemed innocent," she said.
"Sometimes I would find bruises on the baby and when I would ask, the maid would say 'simanyi (I don't know), maybe she fell down."
"I suspected something wasn't right so I recorded and that's what we saw," she said.
The baby's father, Eric Kamanzi, is an IT buff and that partly explains why their Naalya home was CCTV monitored.
When the wife shared the video with him, he beat up the maid, packed her stuff and dropped at the Northern Bypass, just near their Kiwatule home, to go back to her Rukungiri village.
Boda boda riders who saw the maid sympathised with her thinking she had been unfairly dismissed by her employers and they advised her to go to human rights activists who went with her to the employers.
The father was briefly detained for assaulting the maid until he showed the video, to explain why he had beaten up the maid.
When the activists saw the video, they also put human rights aside because of anger and pounced on the maid, beating her up until police intervened and arrested her.
The magistrate at Nakawa has remanded her to Luzira prison until 8th December when her case comes up for hearing.
Kampala Metropolian Police spokesperson Patrick Onyango said she was charged under the Anti-torture Act, but the charge sheet was amended to attempted murder.
Fortunately, baby Nella was examined by doctors and declared fine.