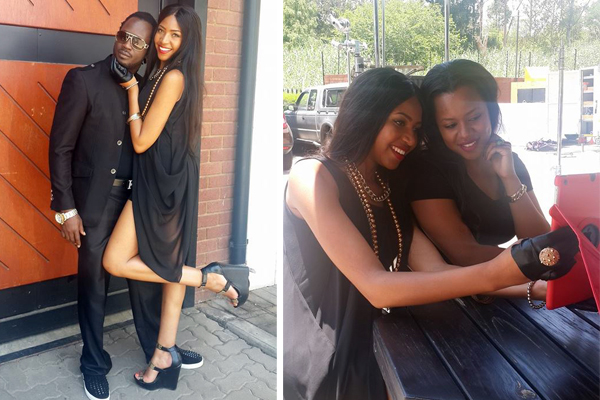 To some who know about the music industry, he's known as the king of "showbiz" and this is because he doesn't do a thing without calculating how he'll benefit out of it.
Earlier today, a renown Youtube gossip Peng Peng posted on his wall saying Zuena lost her cool at the video shoot of his upcoming song Everywhere I Go when Bebe kissed a video vixen during the shoot.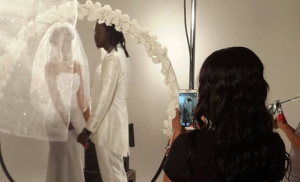 In defence, Zuena wrote, "Lol …  Peng Peng is misleading people mbu I fought my hubby after watching him kiss a gal in a video… it's not the first time I'm watching him kiss a gal in video shoot, it's called acting. Besides, this is the life we chose to live. I wouldn't allow him to do so if I was uncomfortable with it…"
Bebe Cool stirred the controversy further, warning Peng Peng to apologise before close of the day. Below is his post.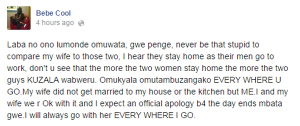 However, Bebe Cool is a good friend of Peng Peng and many people believe this is a stunt to draw people's attention to the song.

It should be noted that Bebe always promotes his music through controversy for example, however good his Love You Everyday song is, he verbally confronted Jazz Safari founder Shaka Mayanja when he said he wasn't the brain behind it. Same applies to tracks like Coccidiosis after his bickering with Bobi Wine, Bogolako and Kasepeki after he was shot at and Agenze after his separation with Zuena among others.
Already the public is anxiously waiting for the video to see the scene where Bebe is kissing the vixen.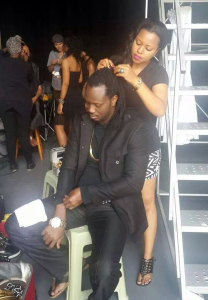 The video was shot in South Africa by Godfather Productions, the same guys that shot Nigerian singer Flavor's Ashawo video.  The song was written by rising music star A Pass.
As we await the release of the video, we shall keep feeding on the controversy, which Bebe Cool knows how to serve in plenty.