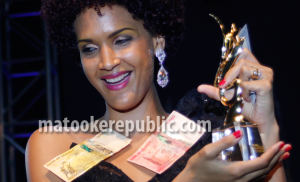 Multi award winning singer Jose Chameleone might have to create some room in his trophy cabinet for his wife Daniela Atim, because she has also started racking in the awards.
Unlike Chameleone who has to sing for the awards, all Daniela had to do was dress well and voila … she walked home with a trophy.
Daniela could actually have missed out on the award had it not been for the insistence of one of the night's hosts Mc Samo to nominate her to come on stage.
Guests were required to nominate those they felt were very well dressed and the vote was up to the general public.
Daniela, dressed in a black gown with revealing lacy details attracted loud cheers from the crowd, but the competition was tight, so emcee Roger Mugisha asked the audience to literally put their money on who they felt was best dressed.
Daniela had people showering her with $100 bills plus 50k and 20k notes and she was the eventual winner, but Mugisha asked the guys "making it rain" on her with dollar bills to go slow because the music doctor might hear about it and it might get bloody.
Daniela told Matooke Republic that she would give the award to her son because she is a house wife who has no intentions of winning awards.