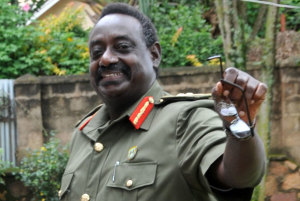 Renegade UPDF general, David Sejusa surprised the nation when he returned from a self-imposed UK exile on Sunday morning.
Sejusa, the former coordinator of intelligence services landed at Entebbe Airport aboard a British Airways flight at 3am and he was received by his sister and the director Chieftaincy of Military Intelligence
It was shocking that Sejusa who had previously threatened to take up arms struggle against President Yoweri Museveni's regime could return just like that.
Upon arrival, Gen. Sejusa said, "It's my constitutional right to be home." But it should be remembered that Sejusa didn't fulfil the custom of burying his father when he passed away in early October, so if it was just about exercising his constitutional right of being home, he would have returned to perform the customary ritual.
But he added that there was has been hostility from the state against him. "There has been no incident from the state, I expect the state to continue acting like this," he said.
For a man who went away fearing for his life after he blew the lid on the so called Muhoozi project to have President Museveni's son Maj. Muhoozi Kainerugaba replace him, isn't it surprising that he returns because there is "there is no incident from the state"?
Was he paid?
They say history repeats itself. In 1997, Sejusa, then going by the name David Tinyefunza denounced the ruling system and even tried to leave UPDF. He was brought back to the fold after President Museveni's brother Gen. Salim Saleh "convinced" him to return with a Shs800m package from the army veterans fund.
If Sejusa was paid to return back then, it cannot be ruled out that he received a handsome package this time round.
Petty differences
In 1997, Sejusa left because he said the movement system was digressing from the values they fought for and again last year, he went into exile saying Museveni had no intention of leaving power and that when he finally does, he would like his son Muhoozi to take over, entrenching a monarchy into Ugandan politics.
However, it should also be noted that Sejusa also has "petty" issues. According to a 2004 Weekly Observer story, Sejusa left in 1997 because apart from addressing pertinent issues, he was also angry that they were not allowed to have women during the bush war and because he was detained for committing the crime yet the rule didn't apply to the top three leaders of the then rebel group including Museveni.
When Musisi bruised his ego
It should be noted that Gen. Sejusa, one of the most feared no nonsense soldiers was one of the first victims of KCCA Executive Director Jennifer Musisi's iron hand when she repossessed a council house that Sejusa had been occupying in 2011. Many thought Sejusa would not leave the house and waited for a war to rage, but when it turned out that Musisi had the ear of President Museveni, Sejusa knew the order must have come from above and he left with his tail between his legs. This would be the start of his troubles with the regime that had him later going into exile in London.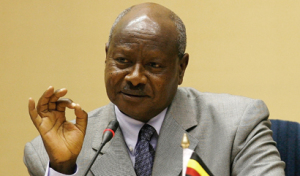 M7 the master of the game
Some claim that Sejusa had actually been spying on the opposition all this long by pretending to be like them, which is likely, but knowing how petty issues like being kicked out of a house can disorganise him, he might actually have left out of anger. And because President Museveni is cunning, he might have extended an olive branch to Sejusa of course with a hefty sum to return in the fold.
Museveni is the master of playing the political game and with former Prime Minister Amama Mbabazi proving to be a thorn in his neck during the NRM CEC, NEC and delegates conference, he could have organised Sejusa's return to act as a smoke screen to shield the public from the NRM battles. He obviously knew Sejusa's return was bigger news than Amama's antics. Amama actually walked out of a CEC meeting where Museveni  introduced constitutional changes to have the NRM Secretary General Post an appointed one instead of an elective one, but Sejusa's news overshwadowed this development.
Supporting Museveni again
For a man who was against President Museveni's perpetual stay in power. Sejusa in a press conference at his Sembabule farm this afternoon says he is back to support President Museveni. That has got everyone puzzled.
Question is was Sejusa paid to return? You guess is as good as ours.