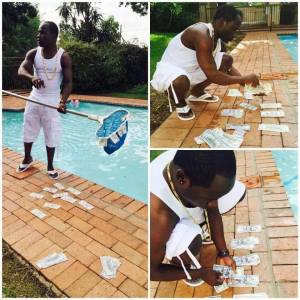 Ugandan based South African "businessman" Katsha De Bank (real name Shafiq Katumba) has taken flossing to another level.
The pint sized fella yesterday posted a photo on his Facebook page, cleaning his swimming pool that was full of $100 bills. He added the caption. "Cleaning my Pool. Have you cleaned yours today?"
He did the stunt to show that while other people clean leaves from their swimming pools, it rains dollars at his house.
Naturally, most Ugandans were not happy with the stunt and the comments section was hilarious.
"A fool and his money," Igazzah Djokovic Medard commented.
"This man has maalo. It's so annoying,"Judith Babz commented.
"No one is a hater, but these sangomas have turtle excitement (rural to urban). Anybody who has dime never do such stupid things what can the likes of Sudhir, Bill gates say? Or have u ever heard them do such cheap stuff? It's for pple who are illiterate," Manafa Nassur commented.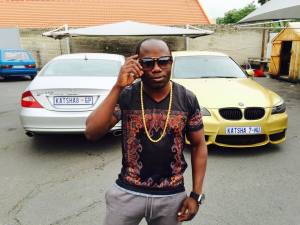 Katsha recently bankrolled Bebe Cool's Everywhere I Go video that was shot by Godfather Productions in South Africa, the same guys that have done videos for Diamond Platnumz, Mr Flavor and Burna Boy among other artistes.
He will be throwing the Made of Money party at Liquid Silk Bugolobi together with other Rich Gang members Ivan Semwanga, King Lawrence and Ed Cheune, that has been pushed to Tuesday 23rd December at Liquid Silk.
It should be remembered that at this time last year, Katsha threw a Sushi party at Venom that heavily flopped and he ended up behind the coolers at Kabalagala Police Station for failure to pay some bills.
One word for this guy? Drop it in the comments section.