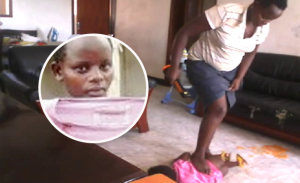 Jolly Tumuhiirwe, the maid whose video clip battering baby Arnella Mbabazi went viral has been sentenced to four years in jail.
The verdict was passed by Buganda Road Court chief magistrate Lillian Bucyana.
Arnella Kamanzi's parents were contented with the judgment and couldn't ask for more. "The judge has done well and this should be a lesson to her. What is more important is that my daughter is doing well. Court has done its part and we thank everyone one who has been with us through this time," Arnella's dad said.
While passing the judgment, the magistrate said that she found four years as enough punishment for Jolly because she cooperated well with the court. "Jolly has been cooperative from the beginning and this has forced me to sentence her to four years. It seems she's remorseful and that is a good sign," she said.
 Click here to watch the video.