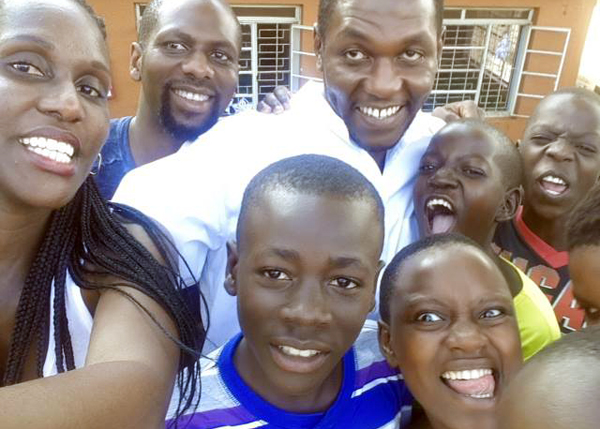 Just two weeks after their wedding, we though former Sanyu FM presenter Seanice Kacungira (now Lojede) and her hubby Nigerian Fabian Lojede who is most known for his role in Jacob's Cross TV series would be on honeymoon somewhere in the Caribbean.
But the Nigerian is still very much around town (don't they just love Kampala). On a positive note, the newlyweds spread some holiday cheer for children that are suffering from cancer at the Akiba home.
Seanice posted 
This is how to spend Christmas! With a husband who always puts others 1st. I'm ok mum, thanks for all your prayers. God is surely looking out for me.

She was commenting on her husband's post of their Boxing Day experience that we have published below.
I spent Boxing Day with my beautiful Seanice and one of my oldest friends Jude Idada at the AKIBA home in Kampala Uganda. A Children's home dedicated to helping under privileged kids suffering from cancer. Brain Walusimbi (The guy in the hat) a lone ranger in this fight works as a clown bringing smiles to the faces of kids during the day only to use the proceeds to wipe the tears of the faces of these kids suffering from cancer. He told me how some of these kids could be smiling and playing one day and told they had only five days to live the next and then, they are gone. As sad as their story is, I was filled with joy and hope that an African could actually be the change he wants to see. He didn't wait for any grant, foreign aid or government he just dug into the greatest wealth of all- compassion, and he spends every ounce he has on this home. With Micheal Oromait who helps run the place while he is out working to feed the kids, they have helped over 500 children. We may not be able to rid the world completely from suffering and disease, we may not be able to change the world over night, but we can change the world of others today. I would love you to help him out but if you can't try and change someone's world today. Have a happy New Year.

www.blessachildfoundation.org

brian@blessachildfoundation.org

+256772680199
Now that's a phenomenal couple.
Click here to checking out their stunning wedding photos.