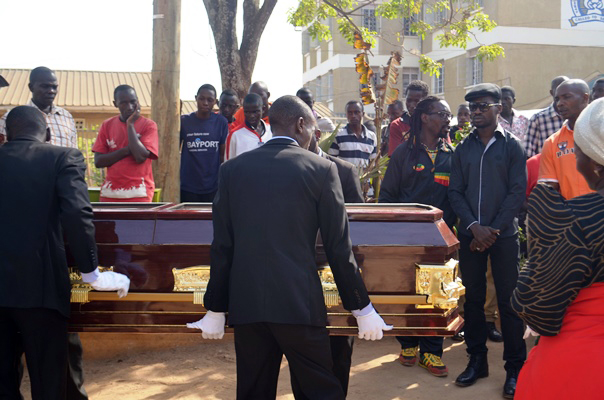 Mzee Jackson Willington Sentamu will be laid to rest at Kikoni in Gomba, this Thursday afternoon. At a requiem mass held at Holy Trinity Church in Kamwokya on Wednesday morning, singer Bobi Wine praised his late father for being a hardworking man who took care of his close to 40 children.
"He was a hardworking man.  Even when he had aged, you would find him working," Bobi said.
"Our father had almost 40 children but made sure that we all go to school," Bobi told mourners.
The close to 80 years old Mzee Sentamu succumbed to diabetes at Mulago Hospital on Tuesday. He had been in and out of hospital over the past one year and he breathed his last after he was rushed to hospital from Bobi Wine's home Magere, Gayaza where he had been staying during his last days as he battled his ailments.
Bobi Wine also said that fame is in the family lineage because Mzee Sentamu was very famous back in the day.
"He was the first person in Mpigi district to go to London in 1950. When he returned, villagers started calling him Muvabulaya because he was their hero," Bobi Wine said. Bulaya stuck as one of his nicknames.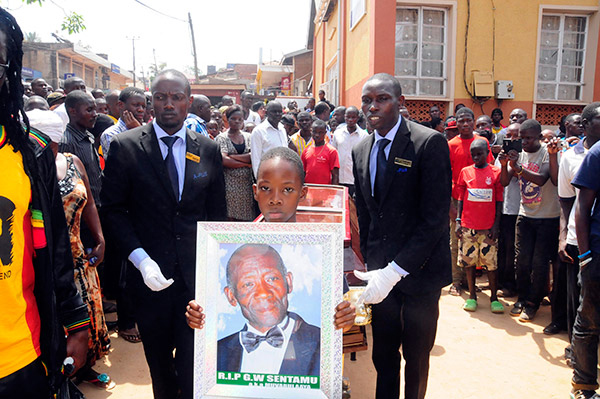 Because of his sojourn in Britain, Bulaya was eloquent in English and he used to read Shakespeare's works as one of Bobi Wine's brothers Fred Nyanzi, more popularly known as Chairman Nyanzi recalls.
"You would find him reading Shakespeare plays and he always wanted us to speak good English," said Nyanzi.
Mzee Sentamu's last born is about four years old.