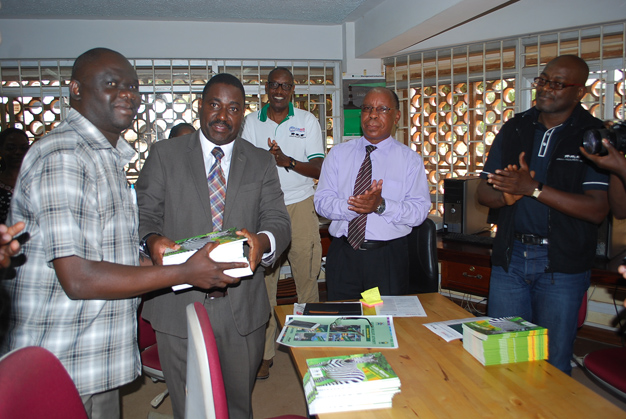 Youth in universities have been told to conserve natural resources in order to prevent future climatic hazards instead of spending time on betting and other unconstructive things. Uganda Wildlife Authority (UWA) Executive Director Dr Andrew Seguya told a gathering at Mbarara University of Science and Technology (MUST) that continued drying of rivers like Rwizi is a big threat to tourism sector because wildlife in Lake Mburo National Park (NP) depends on its water. "When such a river is affected, it means that the underground water sources also get affected and at the end there is not going to be enough water for agriculture, human habitation and wild life, and desertification is the result. This is the problem that local the government here in Mbarara and concerned authorities have to address carefully," Dr Seguya said last Thursday. Seguya recalled that in his childhood, "River Rwizi was a very big river, and right now if you look at its banks; they have been turned into gardens and water levels have totally reduced even to the extent of crossing it by foot. This shows a lot about destruction. What used to be catchment areas to provide water have actually being destroyed which is a very big problem." Dr Seguya blamed the drying up of the river on lack of strict laws to protect it. He added that students and the entire young generation in their respective area must get involved in natural resources conservation. "For us we are going down but youth are the future leaders and this is their country and community. It's young generation which is going to be here in 50 years to come but the question is what kind of the world are they going to live in as far as nature is concerned? That is why we are trying to pass knowledge of conserving nature to new generation because the world of tomorrow is theirs," said Dr Seguya. Mr Kaddu Sebunya, Chief of Party USAID Uganda Biodiversity Programme said they are trying to address threats to Uganda's biodiversity using conservation enterprises together with conservation education tools to provide communities opportunities to develop economic services that will enhance their appreciation of Uganda's natural resources. UWA in collaboration with African Wildlife Foundation (AWF) under the Uganda Biodiversity Conservation programme funded by United States Agency International Development (USAID) gave MUST 300 booklets containing information guide of Lake Mburo NP in order to work with the students to conserve natural resources.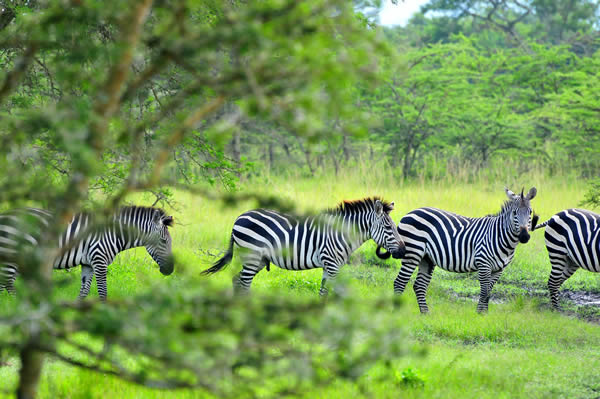 About Lake Mburo
Lake Mburo National Park is located in Kiruhura district in Western Uganda. It is roughly three and half hours drive from Kampala. It has wild animals such as Zebras, Hippos, bushbucks, buffalos, elands, lions, leopards and 315 bird species. The first official designation of this area was in 1932 when it was declared a Controlled Hunting Area under the British colonial government. In 1964, 673 square kilometers were upgraded to become Lake Mburo Game Reserve. This was to be the largest protected area. The park has survived at least two subsequent attempts to destroy it and has been reduced in size in the process. In 1982, 650square kilometers of the Game Reserve became Lake Mburo National Park, and all pastoralists who had been living there were evicted from the land. This created a lot of resentment and when Obote government was overthrown, the local people saw an opportunity to reclaim 'their' land. In addition to destroying public structure the communities tried to eliminate wild life so that there would be no reason to re-establish a national park in future. Within a very short period of time, the park lands were completely settled by pastoralists and agriculturalists. After NRM government came to power in 1986, officials put together task force to figure out what to do about the conflicts within the communities, while also wanting to protect the wild life that was left. They made a decision to remove nearly the half of the area under protection to provide for community settlement, reducing the park in the process to 370 Square Kilometers.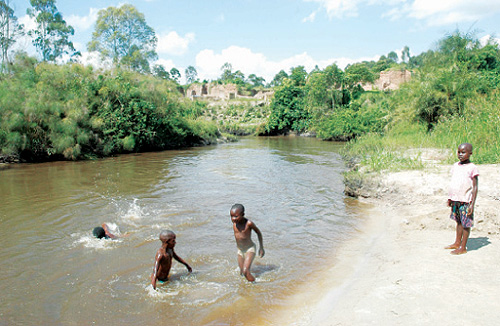 Children play in River Rwizi.
About R. Rwizi
River Rwizi originates from Buhweju hills with various tributaries from various hills and wetlands in Ankole including Ntungamo, Sheema and Bushenyi. It flows through Mbarara town, Lake Mburo NP and Rakai wetlands and pours into Lake Victoria. The volume of water has however been reducing over the time due to increased adverse human activities including cultivation, sad mining, waste disposal and reclamation wetland in the catchment areas.