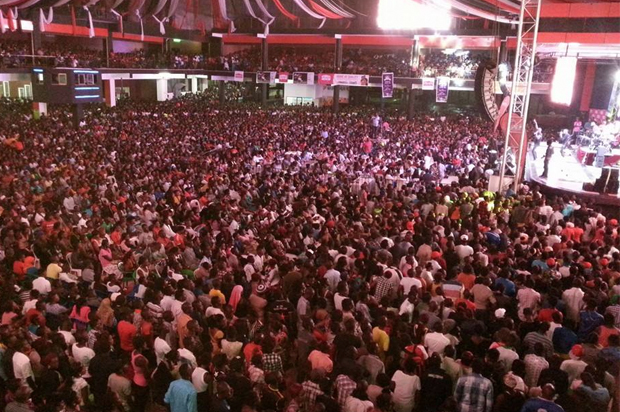 They say he who laughs last laughs best and King Saha is really laughing at veteran singer Bebe Cool. Saha had a record breaking turn up at his Gundeze Concert at Freedom City Mall on Friday night.
It was very gratifying for Saha because his mentor Jose Chameleone was also having a concert at Kyaddondo Rugby Grounds at the same time and many believed Chameleone's show would affect Saha's crowd, but that wasn't to be the case. Both venues had good crowds but Saha's was special because fans were locked out as the venue was filled to capacity.
King Saha has of recent been involved in a war of words with veteran musician Bebe Cool who weighed in on the Saha vs Chameleone concerts saying it was wrong to compare a legend to an upcoming artiste. Saha's reply was that he was no longer upcoming and that he expected words of encouragement from his seniors, not putting him down. "You guys don't own the industry," he told them off.
And when he got a full house, he took to his Facebook page to get back at Bebe Cool.
"My Brother BEBE COOL, Where were you when I was setting a RECORD all over UG, All Entrances being Shut & thousands of people with VIP tickets being Locked outside???? Thanks to everyone who came through to FREEDOM CITY to Support me. Thanks for Supporting King Saha. I can't stop Appreciating you for that Lovely SMILE you've put on my Face but May GOD Bless You," he posted on his Facebook wall.