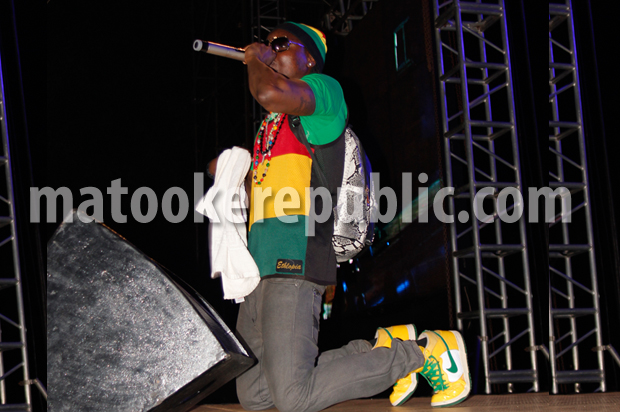 Singer Pallaso went down on his knees and thanked the Goodlyfe duo of Radio and Weasel for "putting him on the map," during his performance at the Goodlyfe duo's concert at Hotel Africana on Friday night.
The singer who was living in the US had struggled musically for close to a decade as a hit song had eluded him, but his 2013 Amaaso hit with Radio and Weasel made him a household name in Uganda and he returned to the country last year, following up Amaaso with several other hits including Get Down Low and Mundongo with fellow Team No Sleep member Sheebah. He also landed the Twatoba collabo with Nigerian star Davido that is rising up the charts.
However, Pallaso was locked in fights with Radio and Weasel for the most part of 2014 as he chose rival camp Team No Sleep that was formed by former Goodlyfe manager Jeff Kiwanuka when he parted ways with Radio and Weasel.
Pallaso is a blood brother of Weasel and they had even recorded a collabo on his return to Uganda, but the song wasn't promoted as beef broke out between the two camps.
The brothers were reunited by the death of their fellow singing brother AK47 and even big brother Jose Chameleone is no longer fighting his siblings that he paved the way for into the music business.
"Whatever happened happened, but I am very grateful to Radio and Weasel," Pallaso said on his knees attracting loud cheers from the crowd.
Click here to check out photos from the concert.