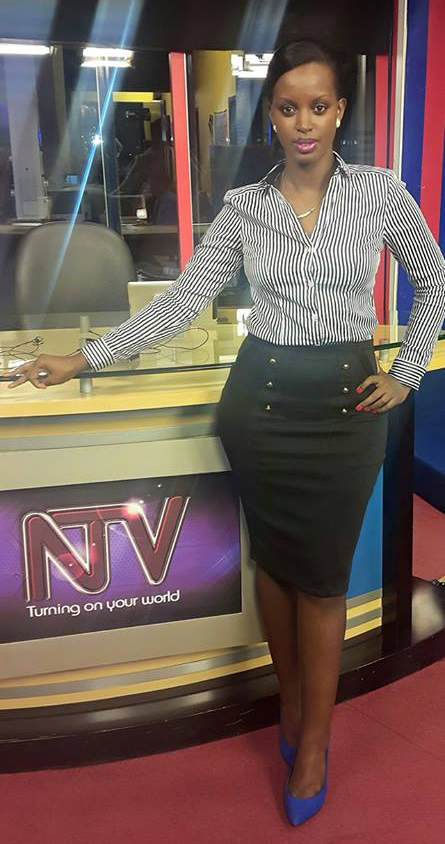 What started as an April Fools' joke has turned into a real profession for Flavia Tumusiime and her new news anchoring gig has pushed NTV's prime time ratings through the roof as men put everything they are doing on a standstill to watch her anchoring news.
On April 1, Flavia Tumusiime and Val Oketcho of Capital FM presented NTV's Morning Show as a prank but the TV bug caught Flavia and she asked NTV management to consider her for a presenting slot. Luckily, an anchoring slot was made available thanks to NTV news manager Maurice Mugisha.
The country now comes to a standstill at 9pm for people to watch the beauty who is also a Capital FM presenter anchoring the news.
Flavia who started anchoring NTV's 9pm news will do so every Monday to Thursday.
"It's been a week of lessons, laughter and love. The support has been overwhelming, I am so grateful, thanks to you and to the amazing and talented team at NTV. Bless each of you," Flavia breathed a sigh of relief after her first working week.
She is not a stranger to TV though, having started out on WBS' Teens Club and having worked as a VJ for Channel O and hosting a Big Brother show, but news anchoring is a different ball game, where she has also scored highly.
But many of the viewers only watch Flavia as eye candy  if their social media comments are anything to go by.
Kategere Thomas Franz: As for me, i only watch, i No longer listen to news.
Arinaitwe Victor: U have been amazing.. I loved to watch and listen to every word of urs.. Welcome to NTV.. We shall continue to support you for this new challenge.. One Love..
Tawo Grahamz Jr: hav loved da way flavia does it on Ntv n I'll neva miss any news incase its flavia
Francis Ninetynine Nsanja: i propose we get news every hour, we watch without blinking
Lawrence Biryabarema: Could run every Sunday @8pm to watch fabiolas show but now we run to ntv at 9pm to watch ze news anchor flavia,,
Godfrey Juko: Naye Namwe b merceful leave other people also 2 hv jobs y double radio n tv yet others r jobles after sch.
Steven Kavuma: Flavia you should work at the BBC HARDTALK. You are professional an eloquently speaker. You are an asset to NTV. God bless you Flavia.
 Some of the comments were sensible but some verged on the insane.
"I ask God to forgiv me for all the imaginary things I did to Flavia while she was reading news last night," tweeted Tumuramye Micheal.