In Africa, family comes first and by family we mean extended family. Your uncle's cousin's wife's sister is just a close family member as your real sister. Therefore it was no surprise when US President Barack Obama had dinner with his extended Kenyan family numbering more than 30 at his "undisclosed" hotel on Friday evening.
Sources say that though Obama loves burgers, ugali, nyama choma and sukama wiki that constitute a truly Kenyan meal were part of the menu.
Kenyans have referred to Obama's visit as a return to his homeland as it is the land of his father Barack Obama Sr. It is the first time Obama visits Kenya as a US president.
It was family first as he was welcomed at the airport by his half-sister Auma Obama with a warm hug, before and he meet more family members including his famous step mother Mama Sarah for dinner.
For logistical  and security reasons, the American president could not visit his father's homeland in Kogelo, Western Kenya.
Obama was in Kenya to preside over the Global Entrepreneurship Summit, but family came first.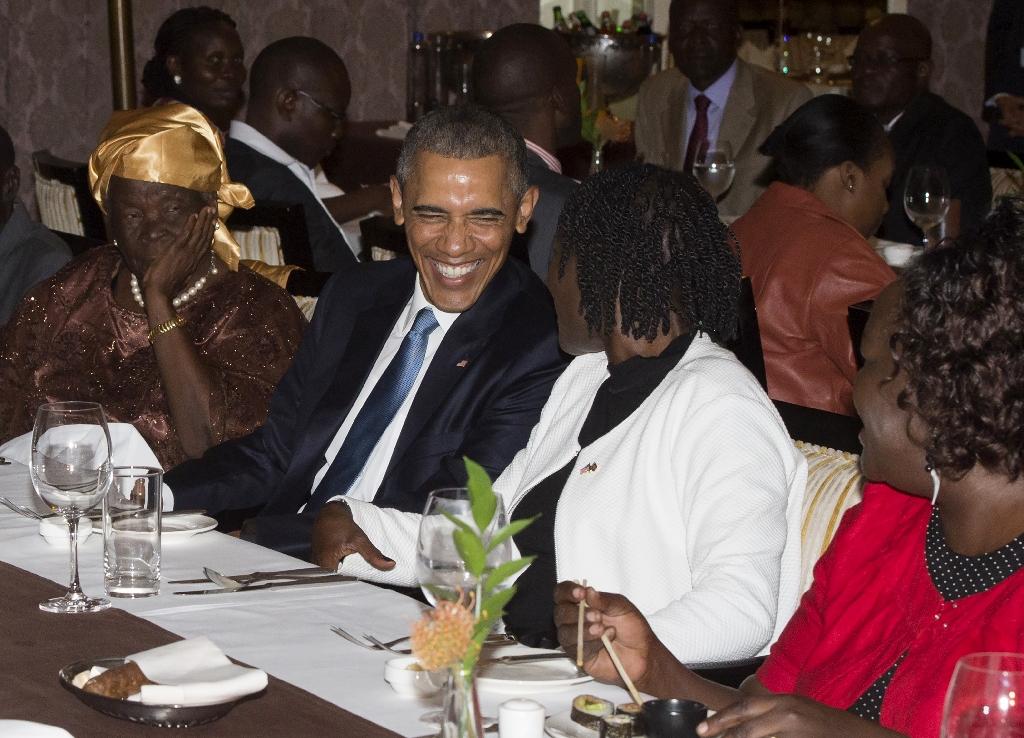 Obama chats with Auma as Mama Sarah looks on at the family dinner. 
---
Obama's Kenyan roots
The president's father, Barack Obama, Sr., left Kenya as a young man to study at the University of Hawaii. There, he met Stanley Ann Dunham, a white woman from Kansas. They would soon marry and have a son, who was named after his father.
Obama Sr left Hawaii when he son was just two years old, to continue his studies at Harvard, and to later return to Kenya. The future president and his father would see each other just once more, when the son was 10 years old. Obama's father died in a car crash in 1982, at age 46.
"I didn't have a dad in the house," Obama said last year during a White House event for My Brother's Keeper, his initiative for young men. "I was angry about it, even though I didn't necessarily realise it at the time."
Obama's first trip to Kenya nearly 30 years ago was a quest to fill in the gaps in the story of his father's life. In his memoir Dreams From My Father, Obama wrote that at the time of his death, "my father remained a mystery to me, both more and less than a man."
What Obama uncovered was a portrait of a talented, but troubled man. An economist for the Kenyan government, the senior Obama clashed with then-President Jomo Kenyatta over tribal divisions and allegations of corruption. He was ultimately fired by the president, sending him into a tailspin of financial problems and heavy drinking.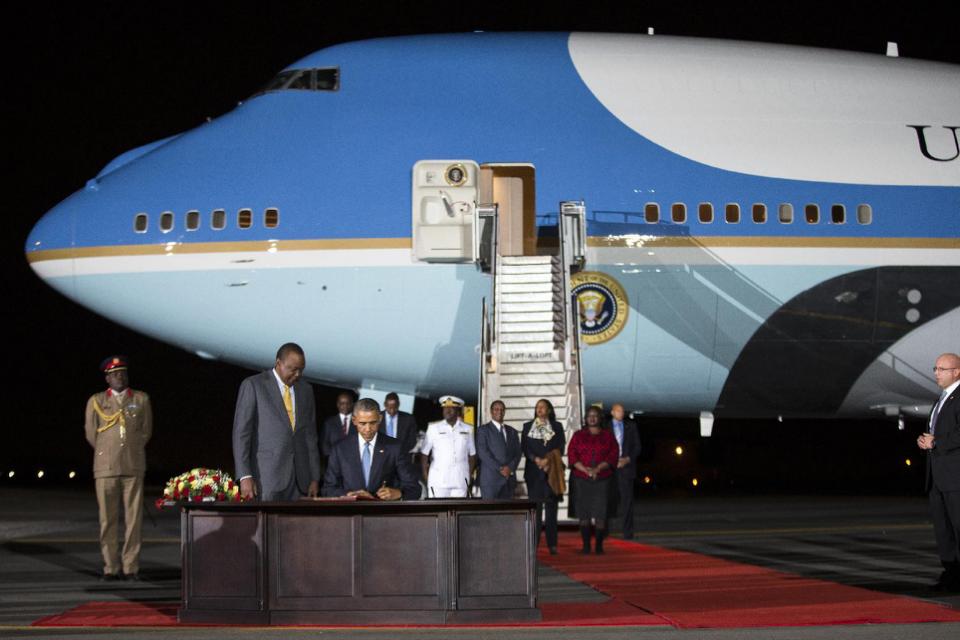 Obama signs the visitor's book on landing at Jommo Kenyatta International Airport in Nairobi on Friday evening.
---
Obama was welcomed by Kenyan president Uhuru Kenyatta, the son of the president his father confronted decades ago.
Logistical constraints and security precautions prevented Obama from visiting Kogelo, the village where his father lived and is buried, on this trip. Sarah Obama, the step-grandmother he calls "Granny," still lives in the village.