Promoter Suudi Lukwago of Suudiman International has been silent since the Moses Golola Vs Titus Tugume bout. Online news sites and tabloids were quick to run stories guessing that the promoter was heavily indebted and had 'sneaked' out of the country.
But the promoter was forced to break the silence yesterday (Tuesday) after burglars broke into his home in Kasubi and made off with property worth millions of shillings and hard cash.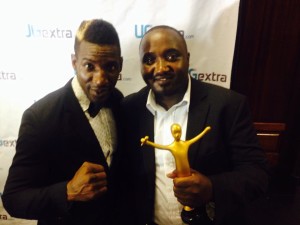 During an exclusive phone conversation, Suudi told us that the thugs broke into his house on the wee hours of Tuesday morning and made away with his Mac laptops, an Ipad, phones, music system, TVs and hard cash amounting to Shs 2.8m.
Suudi told us that he was not home at the time of the tragedy, but he received a call from his girlfriend at about 3am in the night.
"She told me the thieves even tried to kidnap our child, but she made an alarm and they took off!"
Suudi expressed disappointment at the armed security guard from Security Link Ltd that was at his work station, but did not render any help when the theft occurred.
"My wife told me she ran to the security guard in the night and told him she had just been robbed; the guard told her he didn't hear anything because he was listening to music through his ear phones!"
Suudi said he took his girlfriend and child for checkup at Case clinic and they are both in perfect health.
Suudi has staked a whopping Shs 10m on anybody that can give him a lead on the thieves or the whereabouts of any of his stolen properties!