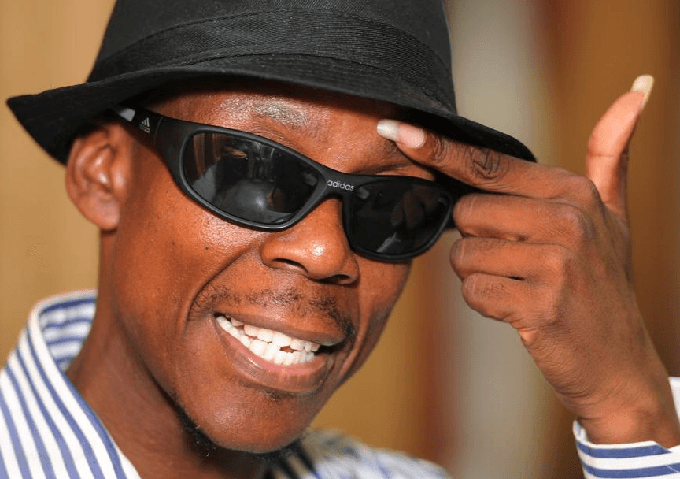 If you found his claims of going to heaven and taking selfies with his Samsung Galaxy S5 phone incredible, you might now be calmed down by the knowledge that his ministry is called the Incredible Happenings Church. So let's turn to the story of Pastor Mboro (also Prophet Mboro) before he went to heaven to take selfies with Jesus and the angels. A story that on its own might still have sufficed to make the 'man of God' a global phenomenon had anyone had the industry put it before the eyes of the world.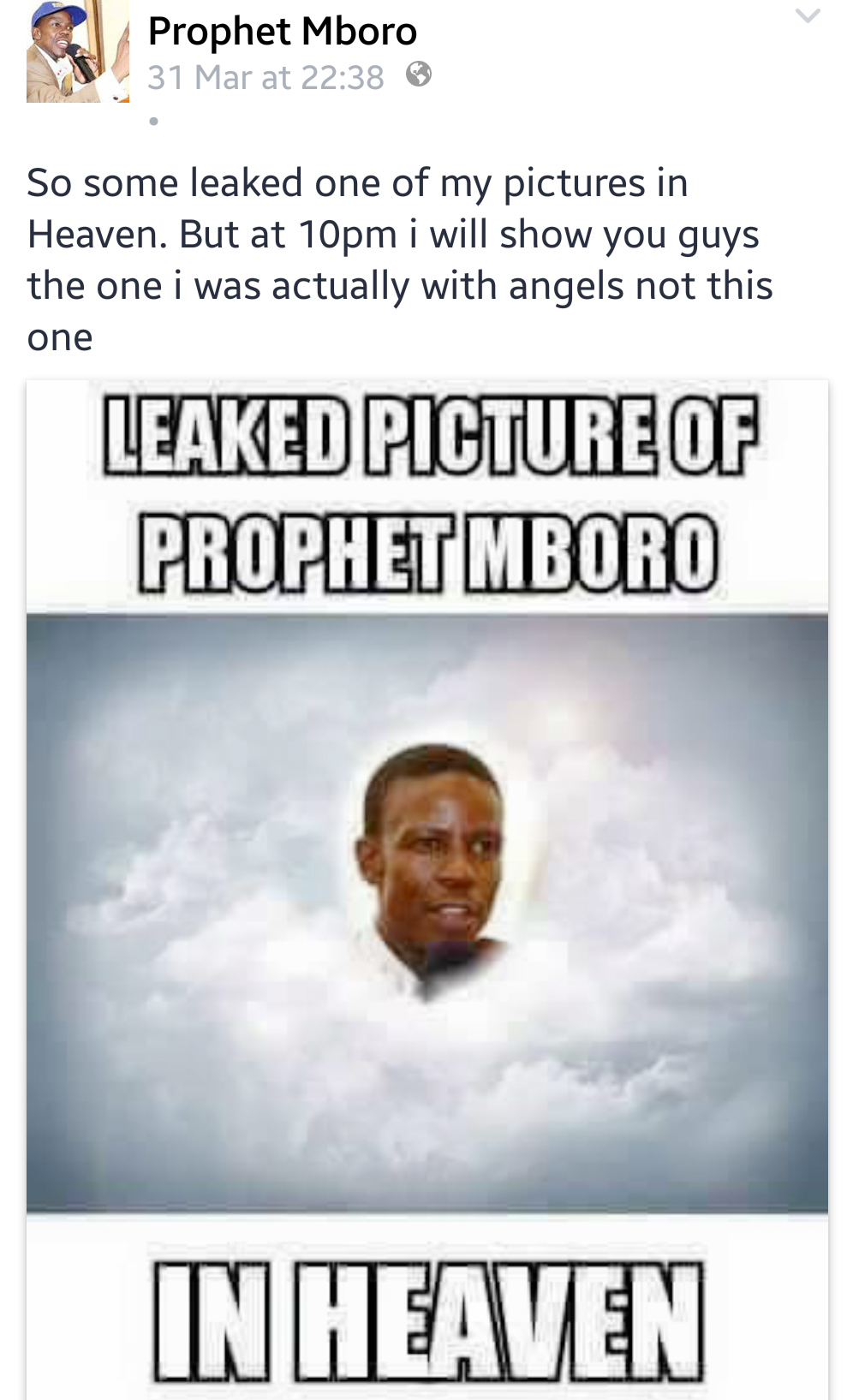 Shot to heaven as congregation watched
While the news of his heaven selfies is what has captured global attention over the last few days, the story of how he got to heaven isn't really any less incredible. It is reported that on Easter Sunday, members of Pastor Mboro's church in Johannesburg witnessed an endlessly wowing deed as, in the midst of the service they watched their controversial prophet ascend into heaven. Apparently the prophet was about to commence his sermon during that Easter service when an unusual light flooded the gathering and transported him to God's kingdom, leaving all congregants astounded. Another minister delivered the sermon and the pastor was to reappear in the church only later as the service was wound down. It is also reported that the pastor had been fasting for four weeks and had told some of his church members about his imminent ascension which was revealed to him while he was fasting.
Accusations of financial Impropriety
While the pastor's story reads like one long accusation for a series of offences, financial impropriety is one of the most serious accusations on the list. There have been innumerable public complaints in South Africa about the ways in which the pastor solicits for money from his congregation (selling miracles one of them). He has been labeled a fake and a con artist running a money-making scheme that robs the poor. In an interview with South Africa's Drum magazine, he denies it all. "I'm not a traditional healer or a fake pastor – I'm just a prophet. I don't perform miracles and I don't heal people. God is the one doing the miracles and delivers people by using me."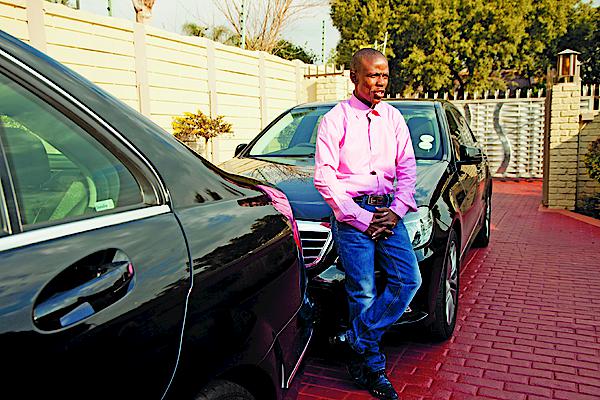 There have also been complaints about where he puts all the money he collects. Last year, the body that monitors and oversees the operations of churches in South Africa asked Prophet Mboro to declare his ministry's financial statements, showing how much the ministry receives and how it spends it, but the Pastor refused even when he was threatened with imprisonment. All he claimed was that his financial statements are private or else they will be used by his enemies when they know how much his ministry has. Other charges of financial impropriety have seen the controversial prophet charged with failure or refusal to pay creditors, from a security company that supplied him with bodyguards but first confiscated one of his cars before he paid, to workers who served in his ministry and were not paid. Interestingly he lives a flamboyant life, with expensive cars, four big mansions, a personal TV channel and always dresses in expensive sharp suits.
Accusations of sexual harassment
In 2011, a couple of women lodged a complaint with the South African Human Rights Commission accusing him of sexually molesting them under the guise of his praying for them and exorcising demons. Among other acts, women have testified to the prophet's pushing his hands inside their private parts in acts of healing, as well as using his feet to massage their private parts and breasts in acts of prayer.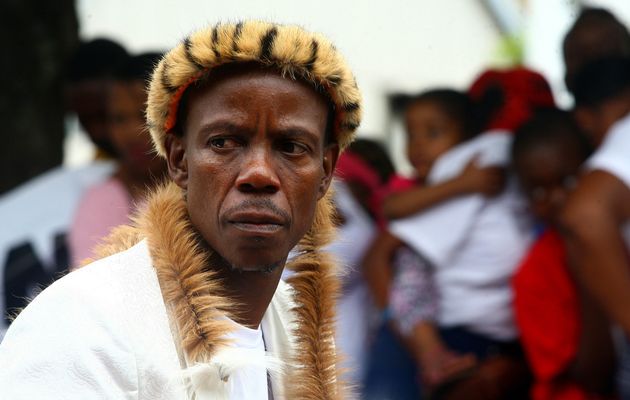 But the most interesting bit here is perhaps Pastor Mboro's responses, in which he always refers to the women's private parts as 'biscuits.' "Why would I touch those biscuits? Most of them are foul-smelling. Those women are desperately crying for help – at times they would ask me to touch their biscuits because they believed when I touched them there they would be healed," Pastor Mboro is on record saying. "As a Mosotho man I respect private parts – that's why I've come up with names like biscuit and vuvuzela (male organ)."
Records of violence around him
Whether at his church, at home or travelling, the flamboyant pastor is ever surrounded with a horde of bodyguards (sometimes numbering as many as 20). The pastor says he hired the bodyguards after a threat on his life. He narrated that he was once attacked by armed men while leaving his church but the gun jammed and they instead hit him badly on the head with the gun. Most of the counts of violence on record have the pastor at the receiving end, featuring several assassination plots which he always refers to in his testimonies. But the pastor has also controversially been on the giving side, an outstanding case being the one of 2014 when he ordered his bodyguards to beat up people who were disrupting a church service by making noise. The incident left two bleeding and heavily bruised, but the pastor said the violence had been meted out on demons and not on people.
The heaven selfies farce
News reports broke earlier this week that during the first church service he gave since Easter Sunday, Prophet Mboro (who had on Easter Sunday shot to heaven in full view of the church) began narrating some of the things that he saw in heaven.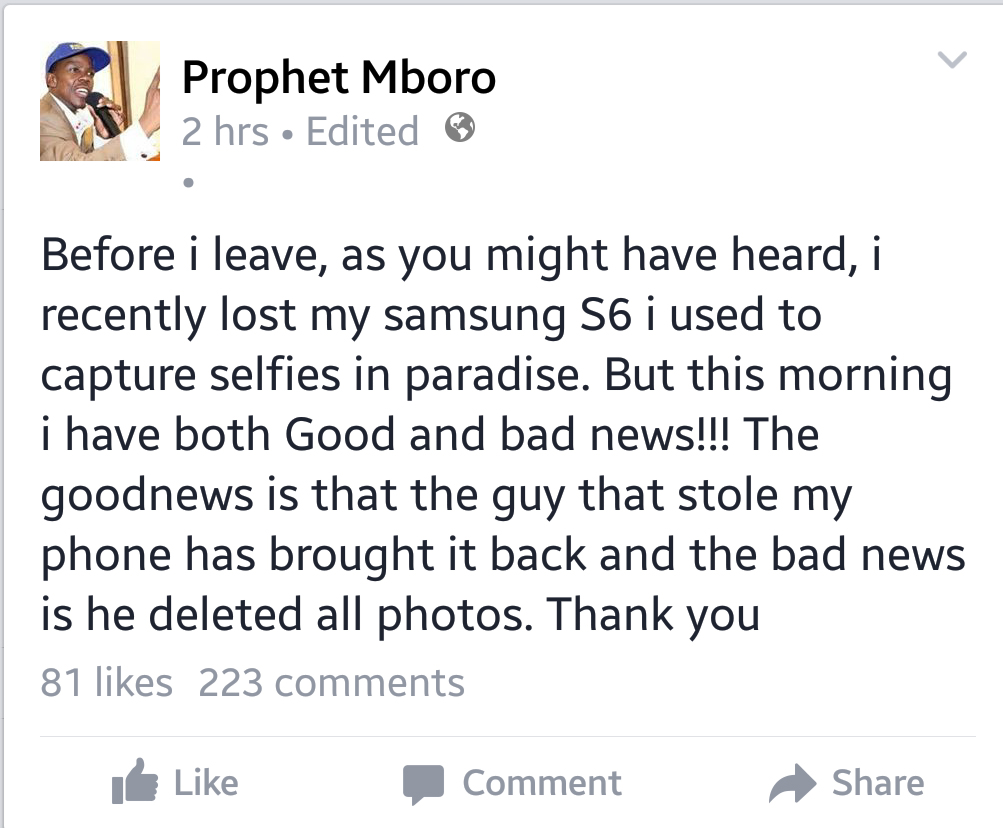 The most incredible of the things the prophet said he saw? The wife of Jesus, who happens to be a hot, young Xhosa woman. "I saw heaven and it is a surprise. Jesus for example has a beautiful Xhosa wife, She is young, hot and extremely attractive," the pastor is quoted to say. Some South African journalists have pointed out that to the pastor's audience, Jesus's wife being a young Xhosa wife is extremely significant, as it hints at an attempt by the Xhosa preacher to please his largely Xhosa audience at the expense of the Zulu with whom the Xhosa ethnicity have a big rivalry in most things. In the same service the prophet also told his flock that while in heaven he had used his Samsung Galaxy S5 phone to take pictures, and would release the images to church members who sent him Rand5,000 (Shs1m). "Those who need the pictures can contact the church and make the pledge using Money Market, then we will send them the pictures on WhatsApp," a spokesman of Pastor Mboro's church was quoted to say when asked about the pictures. The farce wasn't done yet, however. After the story of the pastor's heaven selfies became a trending item of ridicule on the Internet, the pastor announced that he would be releasing the selfies for the whole world to see on his Facebook page, and then shortly after he claimed his phone containing the images had been stolen. The pastor's spokesperson said the phone must have been stolen at a washing bay where the pastor had taken his car for washing.