At Matooke Republic, hindsight and foresight have never been in short supply. So when Makerere academic Dr. Stella Nyanzi captured the eyes of the nation by undressing in protest at what she considered maltreatment by her boss, we went through the archives for the most eye-popping acts of protest witnessed on Ugandan soil in the recent past.




The man who ate a rat for a district
It's without a doubt one of the most incredible acts of protest ever pulled off in Uganda. John Ojim Omoding, a native of Molo Sub county in Tororo district stunned crowds that bright sunny day of March 2005, including President Museveni, when he ate a raw rat to demonstrate how desperately his Itesot community desired a separate district carved out of the larger Tororo they were sharing with the Japadhola residents of the district. That he was 73 years old at the time is more curry to the soup. His explanation was that his action was simply an evocation of a timeless custom of protest in Teso, practised for centuries to induce development programmes.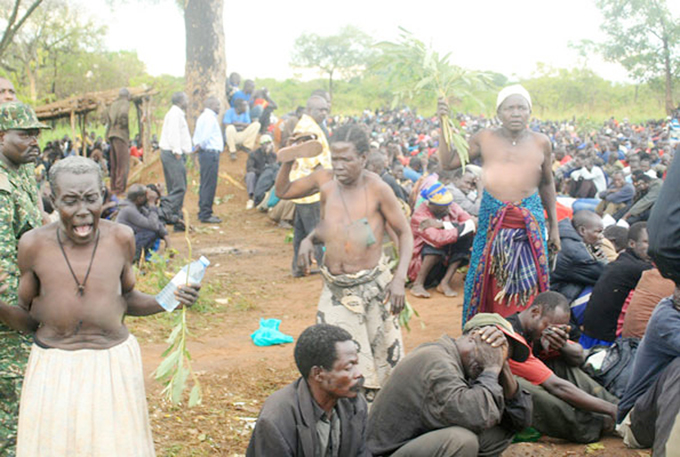 Amuru and Teso women strip for land
You could say these two groups of women set the precedent which Dr. Stella Nyanzi would simply edit from 'group act' to 'solo act.' By all measures the Amuru group pulled off the weightier act, not only providing the first group of women in Uganda to shed their clothes in protest but also doing it in castigation of very high-ranking government officials–then Internal Affairs minister Aronda Nyakairima (R.I.P) and Lands minister Daudi Migereko. The protest occurred in April last year in Apaa village and the women were protesting against the demarcation boundaries that had been drawn separating their community from neighbouring Madi communities of Adjumani district.
Barely two months after the women of Amuru stripped another group in Soroti stripped before officials of Soroti University who they reckoned were expanding beyond the land that officially belonged to them and were eating into residents' land. Some of the women completely stripped naked and lay in the middle of the road while others went around half naked with their breasts uncovered.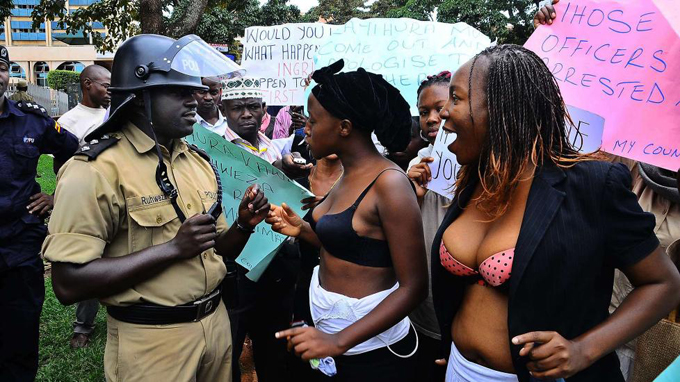 Barbara Allimadi and company bear boobs
Four years ago, Eng. Barbara Alimadi (daughter of Obote II Prime Minister Otema Allimadi) led a group of fellow FDC women activists to Central Police Station (CPS) premises to strip their torsos down to bras in protest of Police's molestation of FDC national mobiliser Ingrid Turinawe. The reason the FDC women chose to strip and reveal their breasts in bras? Police had reportedly squeezed Ingrid Turinawe's breasts. In this protest Allimadi and company also carried placards reading "How would you feel if we squeezed your balls."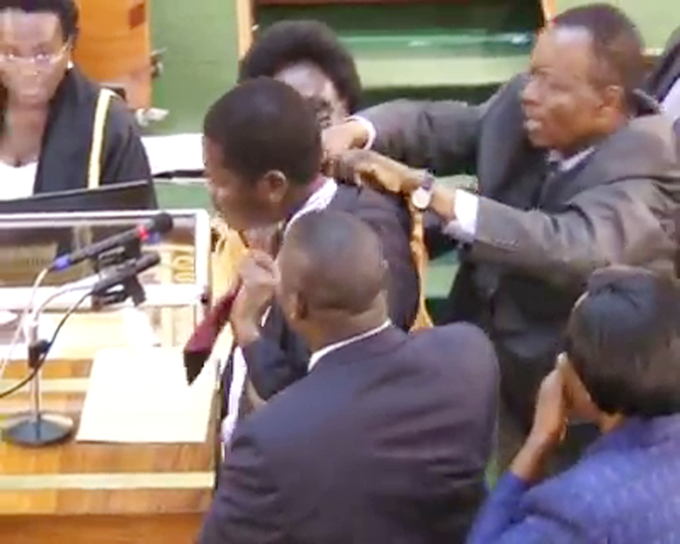 MP Ekanya's attempts to 'hang' himself
Yet again last year the demand for a district by the Itesot community of Tororo district inspired a protest. On August 18, 2015, Tororo County MP Geoffrey Ekanya sent the day's parliamentary proceedings into chaos as he attempted to 'commit suicide' on the floor of the august house over government's failure to grant his county district status. "Honourable Speaker I feel like committing suicide on this floor because this matter is so serious, what is the use of me being a member of Parliament if my people cannot get a district? How?! For 20 years. How can that be?" Ekanya asked as he attempted to undo his maroon necktie so as to 'strangle' himself with it. Amidst cheers and jeers former MPs Ken Lukyamuzi and Cecilia Ogwal rushed to Ekanya and went about restraining him from 'strangling' himself.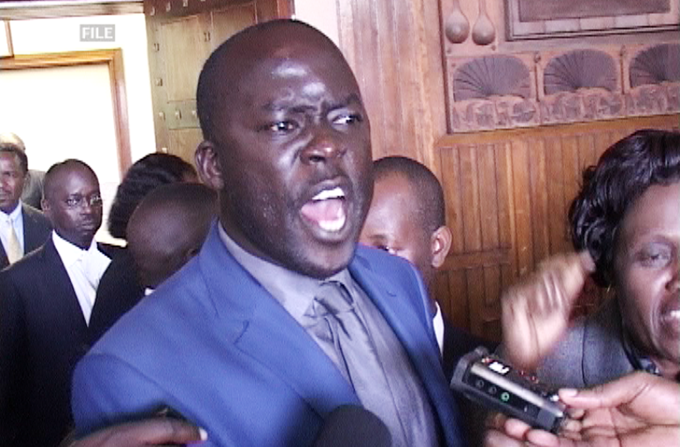 Odonga Otto grabs documents from Speaker, tears them
In August 2013 the famously rebellious opposition politician provided a most premature end to the day's deliberations on the Public Order Management Bill when he grabbed and tore into pieces the list that was being used as an MPs' register to have MPs sign into law the contested bill. It was a day when chaos reigned in Parliament, and before Otto grabbed and tore the register Deputy Speaker Oulanya (presiding over the session) had announced the suspension of Otto, Theodere Ssekikubo and Ibrahim Ssemujju Nganda for a couple of sessions for what he called their disruption of proceedings. Odonga Otto would go on to receive further suspension for his act, but he remained defiant throughout and insisted that he regretted nothing.
Family throws corpse at KCCA
Few who witnessed the drama will ever forget the incident of Madinah Namutebi and her family storming City Hall (the headquarters of KCCA) and attempting to dump the corpse of Namutebi's baby who had been knocked down by a KCCA vehicle under controversial circumstances. Namutebi was reportedly a city vendor operating on Kampala streets against KCCA regulations, but when her baby was knocked down by a KCCA vehicle all hell broke loose as public sympathy and conspiracy theories empowered her to challenge the city authority over allegations its employees had intentionally run a car over her baby. Namutebi and family were not able to go past security personnel to throw their body to the authorities, but they left it abandoned at the entrance till KCCA initiated negotiations to amicably resolve the issue. In the end KCCA contributed to settling burial and other expenses.
Man tries to self-immolate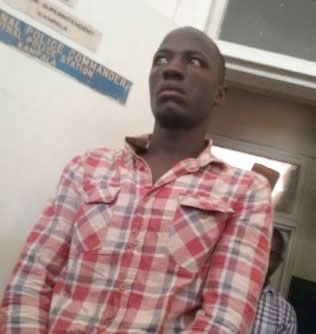 Only last month 28 year old Gerald Kato, a resident of Kasubi, stormed State House Nakasero and tried to set himself on fire at its entrance in protest of his continued unemployment and the high unemployment rate in the country–ills he attributed to President Museveni and his government. However, Kato, who turned up in possession of a mattress, a five litre jerrycan of petrol and a lighter, was quickly apprehended by police before he could go about his intentions and was later charged with with criminal trespass and disorderly conduct.