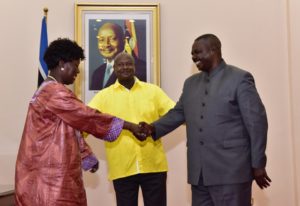 Sources who were on the ground tell us there was tension in the air today afternoon, as Parliament Speaker Rebecca Kadaga and her deputy Jacob Oulanyah shook hands to signify the end of their battle to chair the incoming parliament.
"They shook hands and even forced smiles, yes, but it was all plastic," a source who was on the scene as the two speakers shook hands told us. "You could see that they were embarrassed to face each other and feign peace and mutual good feelings, when they have been exchanging very angry and very ugly words for weeks."




"I even noticed President Museveni sensing the tension as he stood between them to mediate their making up," the source added. "But you know the president, he has been through these things and he must have been amused to see others going through the same."
It might be remembered that before the NRM CEC and caucus resolved Kadaga and Oulanyah's battle for speaker-ship earlier this week (ruling that Kadaga remain the NRM candidate for speaker and Oulanyah return as Deputy Speaker), the two NRM bigwigs had exchanged lots of words, Kadaga unforgettably branding Oulanyah 'a greedy and arrogant man'; while on his part Oulanyah (for weeks) pejoratively brushed off all of Kadaga's attacks and insisted that 'come rain, come shine' he was going to run for speaker.