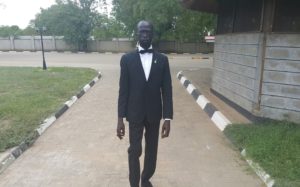 It is presently the topic of discussion on every one's lips in South Sudan.
President Salva Kiir this afternoon kicked Mabior Garang de Mabior (son of the late Gen. John Garang) out of the Transitional Council of Ministers' Meeting in the capital Juba over dress code.
According to a statement from Mabior Garang de Mabior himself, President Kiir personally ordered him out of the gathering which is the first of its kind since the recent formation of the unity government, telling him to go and get appropriately dressed.




"Ariving home after-being kicked out by Salva Kiir from the first sitting of the Council of Ministers for Being inappropriately dressed … Meanwhile there is no fuel in Juba … and people are still in UNMISS – POC's…someone tell Salva Kiir that the days of dictatorship are over," Mabior Garang wrote on his Facebook wall, accompanying his post with a picture in which he was dressed in a black suit, black shoes and a bow tie which he said is what caused him troubles with the President who was chairing the meeting. (It might be noted that bow ties are normally used for evening dinners and other party events, not formal meetings).
Mabior Garang later posted on his wall another picture of himself in a formal tie instead of a bow tie, but yet again he said he was being disturbed by President' Kiir's bodyguards who seemed not to want him to attend the cabinet meeting.
"After coming home and changing my bow tie at the advice of the First Vice President Dr. Riek Machar Teny-dhuorgon…I returned to the Council of Ministers Meeting…only to be harassed and barred from entry by Salvador Kiir's bodyguards…they should understand that this Government Of National Unity  will not be business as usual…Change is here… We will wear the preferred tie of Salva Kiir Mayardit for the next meeting and see what will be the next crime of fashion against the regime…" Garang further wrote on his wall.
He also posted pictures of himself in different attires to show he is ever smartly dressed.
It is important to note that Mabior Garang is not exactly at good terms with President Salvar Kiir, and he has been on the side of rebel leader Dr. Riek Machar in the almost two-year South Sudan stand-off that the leaders are trying to solve through a government of national unity.