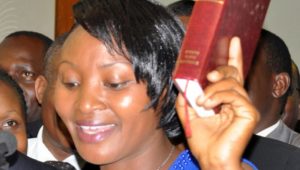 Kasese Woman MP Winnie Kizza is the new Leader of Opposition in parliament, having been appointed by her party FDC and proclaimed earlier today.




Kizza thereby becomes the first woman to occupy the position that was re-instated in the Ugandan parliament after the country moved from a movement political system to multi-party-ism. The position had existed during the first post-colonial government led by prime Minister Apollo Obote between 1962 and 1971, but it was ejected from existence after Obote abolished multi-party-ism and declared Uganda a one-party state in 1966.
Kizza follows in the footsteps of Prof. Ogenga Latigo, who was Leader of Opposition in the 8th parliament (2006-2011) and Wafula Oguttu who led the opposition in the last five years (the 9th parliament).
Other opposition leaders in parliament proclaimed by FDC today include party spokesman Ssemujju Ibrahim Nganda, who has been named Opposition Chief Whip, and Cecilia Ogwal who has been named Parliamentary Commissioner.