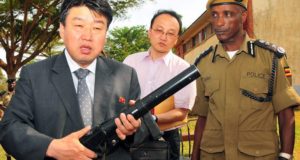 While it looks like the Ugandan government is currently trying to double-deal both South and North Korea to keep friendship with the two antagonistic countries, a rather astonishing fact about the history of Uganda's friendship with North Korea has emerged.




That Uganda has co-operated with the controversial and totalitarian government of North Korea for more than four decades now, the co-operation having been began by Gen. Idi Amin Dada in the early years of his presidency. The co-operation is particularly reported to have began in 1973.
Writing about the Ugandan government 's recent announcement that it is to severe military links to North Korea, a score of American journalists have over the last many hours reported that Uganda's military co-operation with North Korea dates back to 1973 when then-dictator Idi Amin signed an agreement with Pyongyang to provide training and weapons for his armed forces. And that since then, North Korea has mainly provided Uganda with support services, including arms maintenance.
The American journalists have also quoted a U.N. report released earlier this year, which indicated that Uganda had confirmed North Korean military officials were training its police force as of the end of last year. Apparently, in the same report it was written that military trainers from North Korea had been photographed wearing Ugandan air force uniforms.
Meanwhile, it remains uncertain whether the Ugandan government really meant its recent proclamation that it is to end all military co-operation with North Korea. Shortly after President Museveni made the proclamation n the presence of the visiting South Korean president, other government officials countered it saying Uganda will continue its friendship with North Korea on all fronts the two countries have been co-operating over the years.