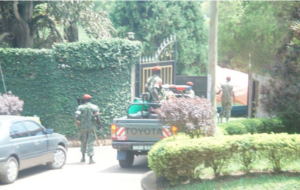 Eight people have died and a child left badly injured in a shooting that has left Makindye Military Barracks in waves of terror.




"The killer Sergeant Isaac Obua has been put out of action" said army spokesperson Lt Col Paddy Ankunda, who added that: "The Sgt went bonkers."
The spokesperson of military police Capt. Edward Birungi confirmed that seven soldiers' wives and one injured child were the victims before the shooter himself was gunned down to seize the situation.
The entire military barracks has now been reportedly cordoned off as investigations into the matter are ongoing.