Mbarara, Gulu,  Mbale, Hoima and Kampala.
The purpose of the workshops is to straighten capacity among nurses and midwives of all ranks and cadres in research and ICT skills," Charity Bryarugaba, the university's marketing and recruitment specialist.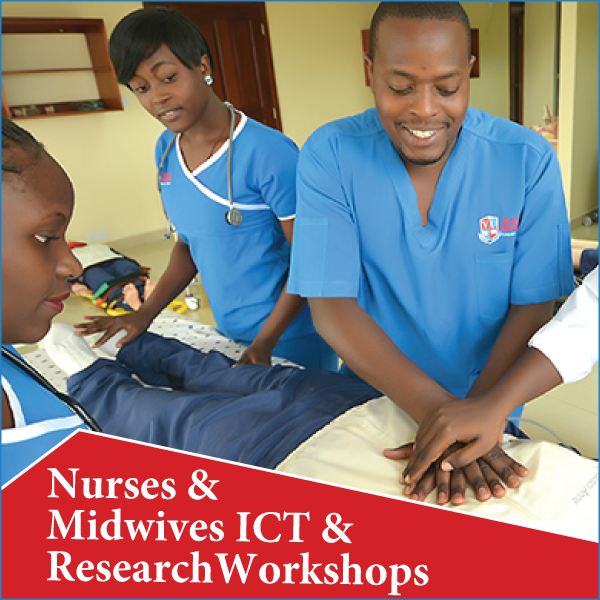 The regional workshops will take place between July 7 and August 7.
The programme will be held as per the dates below;
Mbarara ; 7th -10th July 2016 Fee : 50,000
Gulu : 14th -17th July 2016 Fee : 70,000
Mbale : 21st-24th July 2016 Fee : 50,000
Hoima : 28th-31st July 2016 Fee : 50,000
Kampala: 5th August -7th August 2016 Fee : 50,000
The university also plans to partner with key stakeholders in the nursing and Midwifery fraternity like the Uganda Nurses and Midwives Council, Uganda Nurses and Midwives Union, Uganda Private midwives Association, Ministry Of Health , UNFPA and several others to ensure that these workshops reach as many nurses and midwives in Uganda as possible. "Our key goal is building and strengthening capacity among the available human resources for health (HRH) using affordable and socially acceptable methods. We hope that this will lead to more evidence based practice and thus help nurses and midwives play a more pivotal role in reduction on some key health indicators like maternal, newborn and infant mortality," she said.
For more information and to participate ; email : deanhealthsciences@vu.ac.ug or call 0782861883/0417727000
Byarugaba added that August –September admission is in progress for various courses offered by the university.
Victoria University has announced its first ever regional Nurses and Midwives ICT and Research workshops. "Following a needs assessment conducted by Victoria University from 2014-2015 among nurses in Uganda regarding their Education, practice, training and regulation needs. It was identified that the greatest need was limited knowledge in research and ICT especially in the area of transforming evidence into best practice using technology.  It is to this effect that Victoria University has organized workshops around the country in different areas i.e