Police chief Gen. Kale Kayihura has come out to confirm that the merciless beating of civilians who had gathered to applaud the release of Rtd. Col. Dr. Kizza Besigye from Luzira was sanctioned by him.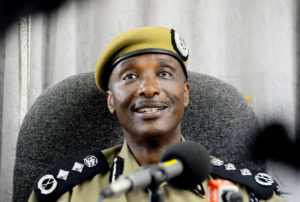 "The use of teargas, rubber bullets and of course bullets has been eliminated. The only options remaining for the commander at scene is use of water cannons or baton charge," said Gen. Kayihura during a press conference held yesterday evening at the Police headquarters in Naguru.



"Because when you are beaten, you don't die, but also beating in places that will not cause harm," he added.
Former presidential candidate, Dr. Kizza Besigye had barely breathed fresh air after his prison release than uniformed and un-uniformed officers sprang into action to clobber the day lights out of civilians who gathered to cheer him up. Besigye is facing treason charges and he spent two months on remand in Luzira, but he was granted bail by the High Court on Tuesday morning.
Gen. Kayihura alleges that Police acted in self-defence as crowds hurled insults and stones at the officers the following day as they followed Dr.Kizza on his way to the FDC headquarters in Najjanakumbi, prompting a negative reaction from the police hence the beating.

" The images that were shown on television and social media were selective. They did not show the whole incident where crowds threw stones at the police. That is not journalism," he said.
Gen. Kayihura went ahead to defend the officers who unrelentingly whipped civilians saying that the use of batons is the recommended standard of operation since the force has in the past been criticized for using rubber bullets and tear gas.
Gen. Kayihura also said that he has instructed the Commander Professional Standards Unit Mr. Fortunate Habyara to investigate the un-uniformed men who participated in the beating.
"We have foiled many crime incidents with help of ordinary citizens. We also have overt and covert operations. I think what matters is how it has been done. Covert officers should not be involved in the beating," said the police chief.
Gen. Kale Kayihura insisted that he will not allow Besigye's defiance activities unless they are within the Public Oder Management Act.