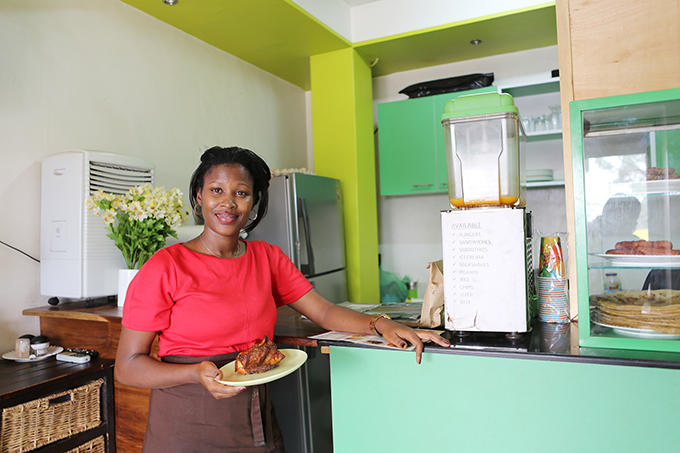 William Kasoba sat down with the 29 year old restaurant owner to hear her thoughts on starting and running a food business.
Born in Masaka and orphaned when she was only six, Faith Baliddawa Busingye didn't have a choice but to be enterprising. As a young lady with a dream of studying mass communication, Faith had to find her own means to see her through university, because her grandmother could not raise the fees. Her drive got her into two radio jobs in quick succession, before her big break came, in form of a job in Nakawa as a clearing and forwarding agent which paid her Shs150,000. Clearing and forwarding soon became so lucrative for Faith she ended up never really practising journalism, instead her work in the clearing/forwarding world would create a springboard for her to venture into an area she had always been passionate about: running a food business. That was three years ago. Starting off with a fridge, dispenser and a few other effects, Faith opened a snack shop in one location and a local food restaurant in another, but both around Nakawa, taking full advantage of the proximity to her clearing/forwarding workplace as well as the guarantee of a customer base. That did not work out so smoothly, because returns were low owing to the fact that Faith's customers were primarily students. Still, she kept faith with the food business and when an opportunity presented itself in form of an available space at the Mount Olive Country Mall in Ntinda in April this year, Food 4 U was born. The eatery serves a variety of snacks, drinks and fast foods.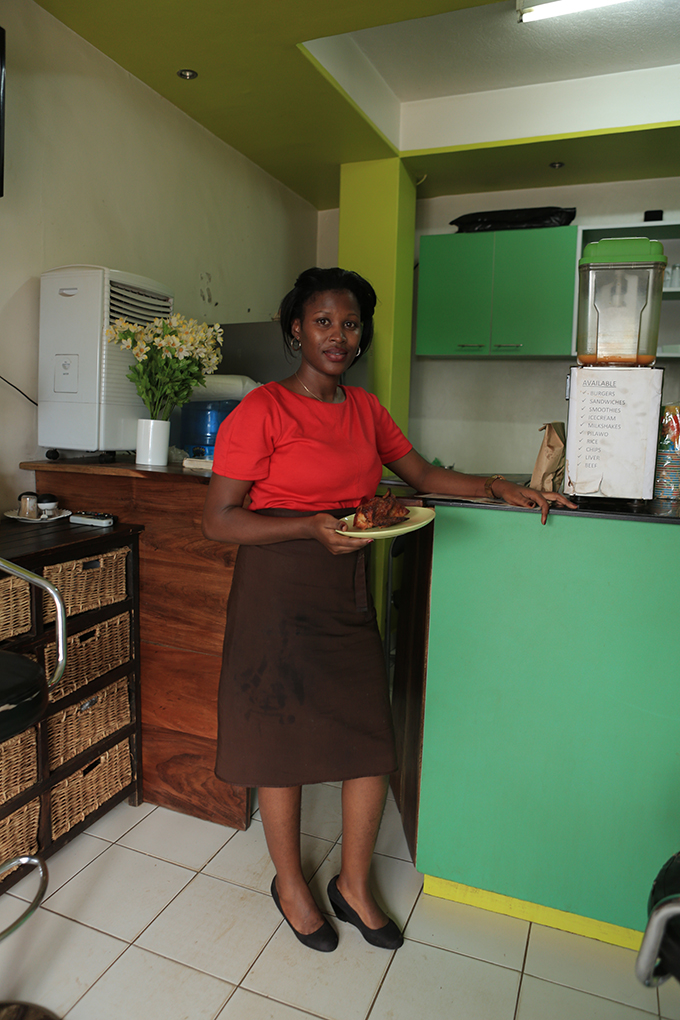 Inspiration for getting into food business
For long my main hobbies were fashion and food business. Fashion being a seasonal business, I decided to venture into the food business because it operates without such restrictions.
On the key things before one gets started
The most important thing is location. Customer care is also important, that's why I have to come here every day.
On what was required to get started
We paid Shs6 million [good will], and we had most of the things already (from the first food business). But the most important things are a fryer, juice dispenser, oven, cooker, fridge and freezer. While at Mubs I paid rent of 200k per month [rent at Shs850,000 in the new location].
Any other special requirements
For KCCA you need the licences. You also need to acquire a fire extinguisher, and staff hygiene is paramount for this kind of business, in addition to a clean kitchen. On the challenges and the risks Food gets spoilt and when starting out you can't afford to sell someone something that has gone bad. We also get customers who want credit; actually we have a customer who went with [our] 150k. He started out as very loyal so I started trusting him and I let him eat on credit… When starting you try different things and you're not sure that it will work; you just try of course some things are not bought but you to keep trying until you know what your clients want. Another challenge is chefs. It's a very big thing and people in the same business will tell you the same. We have just started and it's a small place you cannot go out throwing money to bring in so many people. When hiring I encourage team work, you do everything I also do everything.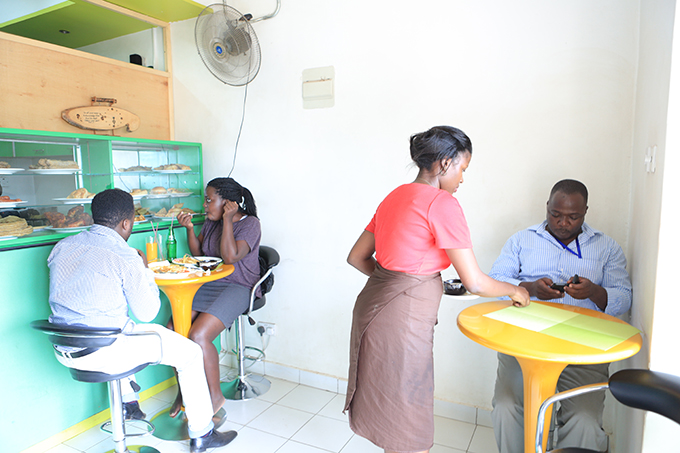 How much the business makes
Let me say on average 300k per day in terms of revenue.
On the kind of staff required
We have a cleaner who also washes dishes we have two chefs one doing snacks and the other preparing other foods. I sometimes do the cooking, go to the market, and do the cashiering.
The things I know now…
Shopping in bulk is much cheaper and local food is really tricky.
To anyone who wants to do business
Your presence as the owner matters a lot because no one cares about your business as much as you do.