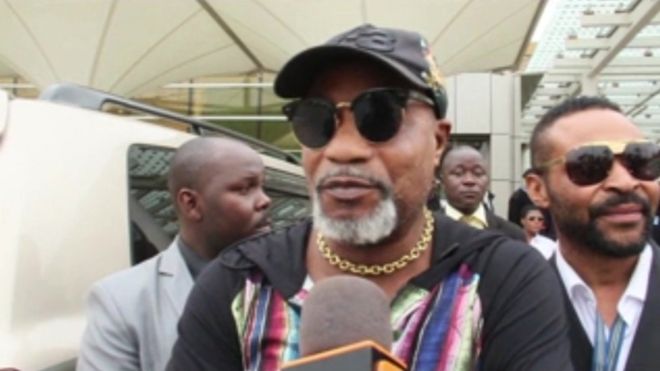 Congolese musician ‪Koffi Olomide has been deported by Kenya after he assaulted one of his female dancer at Jommo Kenyatta International Airport on Friday.





The singer was set to hold a show in Nairobi this Saturday.
The Rhumba maestro was arrested outside Royal Media Services offices on Friday evening and taken to JKIA police station where he spent the night in police cells.
After a video of him kicking one of his dancers went viral,  Kenya's Inspector General of Police Joseph Boinnet ordered airport police to take immediate action against him.
But during the interview, Koffi denied assaulting the dancer, identified as Pamela.
He said he was protecting her from a pick pocketing incidence at the airport.
Kenya's Youth and Gender cabinet secretary Sicily Kariuki released a statement saying that Koffi should be deported and his visa permanently revoked. This means the singer will never set foot in Kenya again.
"His conduct was an insult to Kenyans and our constitution. Violence against women and girls cannot be accepted in any shape, form or manner. It is a blatant violation of their human rights." Sicily said.
Koffi apologised for the incident.
"I watched the video with a lot of distress where it seems that I was assaulting one of my dancers. On the contrary I was defending my dancers from a lady who was threatening them at the airport," he said.
Eye witnesses however say Koffi kicked the dancer after she was involved in an altercation with his wife Cindy who is the CEO of his band.