Rtd col Dr. Kiiza Besigye has disagreed with government decision to have express powers of taking any private land for development.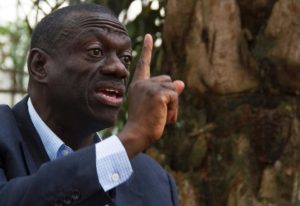 While addressing the press this morning on the decision for the government to have express powers to take over private land for development, Besigye warned Government about the possibility of war that the country can fall into incase the issue of land is not handled well.
'' There must be a cleanup in the Land system to halt the conflicts that have been rising as a result of the Land system being weak and be-deviled by systematic corruption''. He added.
Dr. Besigye has referred to the government's urgency to take over private land as an act of being desperate for survival. He therefore urged Ugandans to rise and defend their Land never to surrender it into the hands of Land predators.
''Just like we defended Mabira forest, we, as Ugandans must rise and defend our land from these predators. They can take other things''. Besigye addressed