A man identified as Paul Kafeero (no relation to fallen Kadongo Kamu legend of the same name) has been beaten to death over allegations of stealing a boda boda.
Kafeero, 54, a resident of Nyabihinga Kyatoko Eastern Division Rukungiri Municipality met the wrath of an angry mob at Chello Fuel Station. The attackers after clobbering him to death, went ahead to vandalize about two acres of bananas, killing his pigs and goats before setting his house on fire.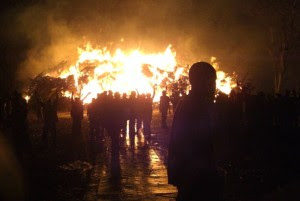 The suspect had earlier on allegedly hired a boda boda rider, Mr. Derrick Tumuhimbise, to take him to Buyanja but when they reached midway, he clobbered the boda boda man on the head with an iron bar leaving him for dead and taking off with the motorcycle.
The victim, a resident of Omukalele a Rukungiri surbub, was later found in a critical condition by passersby who rushed him to Mbarara Refferal Hospital where he is still receiving treatment.




On searching the suspect's home, the assailants found a variety of property suspected to have been stolen. These properties include, a motorcycle, music systems, a TV set, crates of beer, blood stained jackets and iron bars.
The chairman boda boda cyclists in Rukungiri Mr. Fred Karamuzi reported that a lot of motorcycles are being stolen and the cyclists' beaten. "Two motor cycles have been stolen just this week and the owners killed," he said. "We have cried for police to help us but up to now they have done nothing," he added.
The officer in charge of criminal investigations in Rukungiri, Mr. Justus Twinamastiko has however condemned the act of the people taking the law in their own hands. No one has been arrested for the acts of mob justice yet.