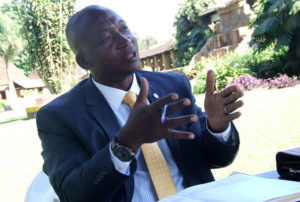 State Minister for Labour Employment and Industrial relations, Herbert Kabafunzaki, has given a two-week ultimatum to Asian investors who use workers in an un conducive environment contrary to the Ugandan labour laws or they face the repercussions. 
Kabafunzaki said this while on his inspection tour of factories in Mukono, Jinja and Mayuge last weekend. Adding that the government is working tooth and nail to ensure the conditions in which Ugandan labourers are working is prioritised.
He noted that Asians are particularly stubborn when it comes to observing labour laws. Employees complain of work related injuries to which they are not given medication, lack of protective gears, 
workers being battered, little pay, lack of job security and documentation.
 "I have witnessed cases of injuries as a result of lack of protective gears, and industries have not catered for the treatment, leaving them to rot," Mr Kabafunzaki said in response to the many complaints he received.
 Mr David Atwoki Mugisa, a commissioner with the ministry, said that Uganda trains many professionals who can do most of the work that is taken up by foreigners which subsequently worsens the already scarce jobs.