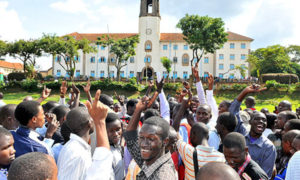 The Minister of Education and Sports Janet Museveni has assured Makerere students that the University will re-open
tomorrow
for the academic year 2016/17.
A section of students led by the acting Guild President Jothan Burubuto had organised a strike and planned to walk to the ministry of Education to meet Mama Janet over re-opening the university but police intervened and provided a bus that transported them to minister's office.
The University was supposed to open last Saturday but it did not because there was an ongoing strike by the non-teaching staff who were demanding an increase in their salaries.
While in the meeting, the First Lady gave a keen ear to the students' issue and assured them that the university will re-open

tomorrow

after she had agreed with the University Council.
"I want to thank you students for having turned up peacefully to meet me and we resolve this issue of national importance….the University Council has assured me that Makerere is opening

tomorrow

," Ms. Museveni said