With only Shs150,000, Gideon Rwabwugo started his fruit stall. In no time, he had upgraded to a small shop and 10 years later, he owns two supermarkets.
After graduating from Makerere University slightly over a decade ago, Gideon Rwabwugo commenced the hunt for a job—as any graduate would. With a single mother and younger siblings to look after, he needed a source of livelihood more urgently than most, since he was now expected to take full responsibility of the home. A young and enthusiastic Rwabwugo had searched far and wide when an opportunity presented itself; for a shop attendant. That job paid him Shs200,000 per month, which money he was able to keep some savings of even after meeting ball his basic needs. He also very much admired his boss at the time, businessman Patrick Bitature, who owned various big shops around town and as such always
consulted him for advice.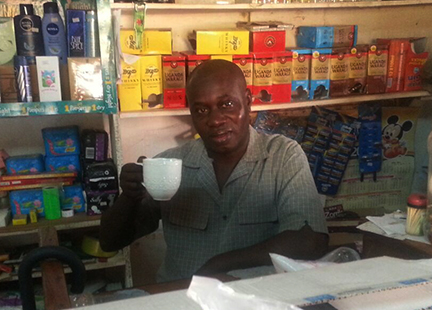 In 2005, after saving some money, Rwabwugo decided it was time for him to start a small business on the side as had been his desire for a long time. He opened up a stall of fruits and vegetables using Shs150,000. His girlfriend (now his wife Jennifer Rwabwugo) attended to that. The stall picked up really quickly, and in no time was making him about Shs150,000 in profit a week.
Rwabwugo stuck to his saving ways; keeping every coin sold from the stall while supplementing that with savings obtained from the salary provided by his regular job. With a bit of money kept aside, he was ready to upgrade from a stall to a small shop. The shop, which sold a variety of commodities, cost him Shs800,000 to start.
As Rwabwugo witnessed his shop expand each day he told Matooke Republic this "ignited me to enlarge my business in order to have a shop that has a full package of all what my clients needed, and so from renting a single room I talked to my landlord and he gave me the adjacent room which we joined and later came up with a bigger shop," said Rwabwugo.
After saving up Shs10m, of which Shs5m came from the shop savings and the other Shs5m was for work he had done for someone, Rwabwugo got an idea of turning the shop to a supermarket, and that marked the beginning of G&J Supermarket in Namugongo. Six years into the retail business, he had gone from fruit stall to small shop to a supermarket that makes him an average of Shs2m per week.
He says his main trick for success in the supermarket business is good customer
relationships and long opening hours. "I serve my clients for over 15 hours daily
and I normally award discounts to those that buy in bulk to entice them to come
back," Rwabwugo said. His main challenge is the fluctuation in prices that lead his
customers to sometimes complain about price changes. Four years into the supermarket business, there is no slowing down for the Rwabwugos, who this year opened up another supermarket in Naalya.