In 2013, Angel Birungi Nankinga finished her A' Level at Kawanda Senior Secondary School in Kawempe. During her teenage years, Nankinga had desires of becoming the most known media personality in the country. But the teenager had no links to connect her to her desired career, so in her vacation, she decided to join a dancing group as she was always involved in music, dance and drama at school. She hoped this would be her breakthrough into the lime light.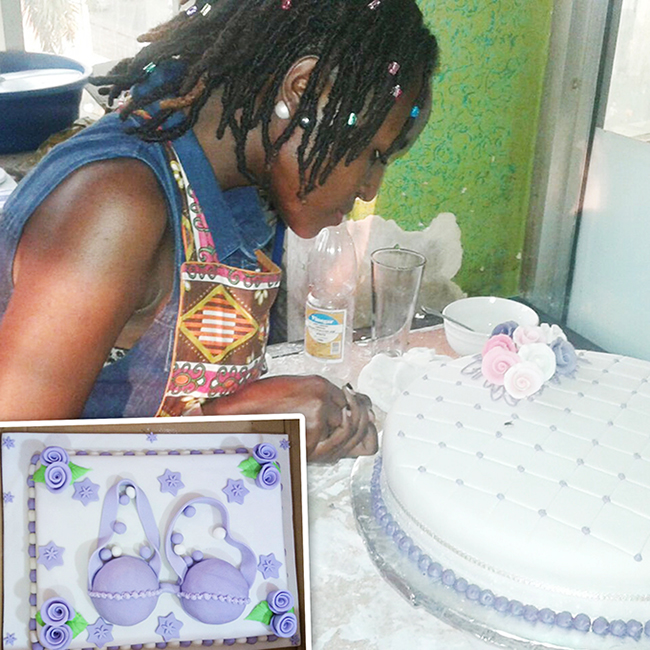 Nankinga always had her dancing sessions at Namboole parking yard with her friends who had the similar ambitions. However, she realised she needed money to cater for her career like buying costumes and her parents could not invest any penny in what they called a "lousy hobby".



She decided to give up dancing for a while to look for any available employment opportunity to raise money. Nankinga's high school friend connected her to a restaurant job at Mabirizi Plaza where she worked as a cashier. The owner of this restaurant also had a project where he could train youth on how to be innovative (starting their own businesses). "He used to conduct catering lessons on weekends for anyone who wished to learn," Nankinga says.
She slowly started picking interest in the catering lessons. Towards the end of 2015, Nankinga decided to specialise in baking cakes since she had lots of friends celebrating birthday parties and holding graduation parties, who became her target market. That is how Pink Cakes was born.
"I had created a good relationship with my restaurant boss and since he always showed support for my efforts, I did not fear to ask him for permission to use his restaurant to bake cakes for my friends who had made orders," she narrates. Good enough the boss did not hesitate; to give her a go ahead.
The first order Nankinga got came from a friend who paid her Shs50,000, to make him a birthday cake. She bought all the necessary ingredients including wheat flour, a tray of eggs, sugar,   Blue Band, baking powder, vinegar, lemon and icing sugar. All items cost her Shs35,000 and she paid Shs5,000 to compensate her boss' Yaka units thus making a profit of Shs10,000.
Nankinga used social media platforms like Facebook and Whatsapp to promote her business. She says the business is seasonal; active mainly during the end and start of the year due to occurrence of many events like graduation parties and these are her target markets where she receives a lot of orders from friends and new clients. "My cake prices start from Shs50,000 and above."
Challenges
This innovative youth faces several challenges in her business like lack of personal bakery equipment, which leads to delay in delivering clients' orders.
"Some of my friends pay too little yet at the end they demand for a big and good cake," she says.
Nankinga has big plans as she wants to set up her bakery nad start baking millions. Because baking is not a full time job, Nankinga is involved in fashion and she is as shop attendant at her friend's shop, Sourire Bags Shop at Equatorial Mall in Kampala.