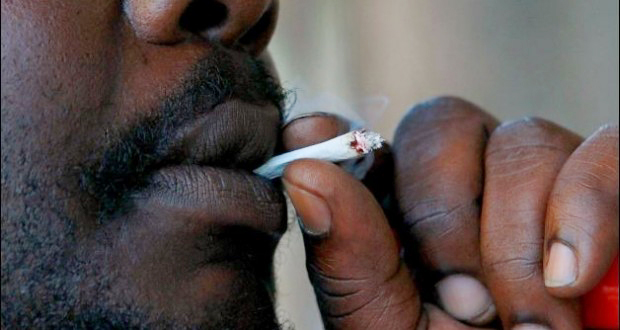 Cigarette smoke does irritate non-smokers. If you never knew, you definitely don't want to be in the shoes of one man who was murdered over smoking after a non-smoker got angry, attacked and killed him for smoking in his presence.
To begin with, public smoking in public was banned in Uganda last year under the Anti- smoking Law.
Under the Tobacco Control Act, smokers must be within a radius of at least 50 metres away from public spaces such as schools, hospitals and taxi ranks and the penalty for offenders upon conviction is imprisonment for a period not exceeding five months or a Shs200,000 fine.
According to Daily Monitor, "Mr. Stephen Ojulong is behind the bars after allegedly Asuman Amenu. He allegedly warned him several times to smoke from a distance but his call was not adhered to. He then picked a huge stick, hitting Amenu into coma".
The suspect had a strong dislike for cigarette smoking.
"The suspect surprisingly hit the late on his forehead," Mr Epesu confirmed. He said they have always known Ojulong as one with a strong dislike for passive smoking and that he had on several occasions discouraged ardent smokers from lighting up within his environs", Daily Monitor stated.

Mr Epesu added that after Amenu collapsed, he was rushed to Soroti Regional Referral Hospital, where he breathed his last on Sunday. The suspect will undergo a mental test.