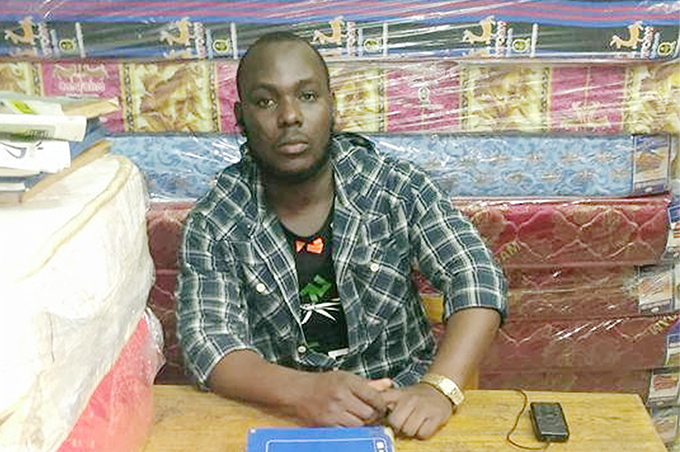 Alex Magala is not one to despise humble beginnings. While pursuing his Bachelor's degree in Business Administration at Kyambogo University in 2012, the Kira Kito resident turned to hawking to raise the money he needed to cater for his university functional fees.




"I would do everything to see myself through my course. My mother contributed half of my tuition. I had belief in me that I could do something to raise the other half and also buy things like handouts, pay for fieldwork trips and all that," Alex said.
All this would not have happened had he not met a friend and Old Boy, Godfrey, who had hawked clothes in the estates in Naalya. He offered him a job- as a hawker.
"Just like my other friends did, I was also close to disregarding his business idea when he approached me but because I was desperate for fees my passion was ignited day after day," Alex explained.
It seemed tough at the start as he would at often meet friends as he hawked goods and would seek hiding. His weekly labours earned him Shs80,000, even if he would get into class with his body broken. Yet Alex soldiered on and a year later, the then 24-year-old had saved about Shs900,000. He bought his own stock and rented a shop where he began to sell his clothes.
Happy hawker
He gave a few of the clothes to his siblings to hawk (while in their vac) as he continued to work for his friend Godfrey. Unlike his classmates who had to keep calling their parents for tuition, Magala was a happy hawker as he was earning his own cash all through his campus life.
Three years down the road and out university with his degree, Alex was fortunate to secure another a job with one of the mattress companies in Kampala.
"Though I had to quit working for my friend [Godfrey], I did not cast away my stock. The new job was paying me Shs400,000 per month. I increased my stock when I received my first salary and hired more boys to help with hawking my clothes," he said.
One year working with the mattress company was enough for him to save up about Shs3m and a man with an entrepreneurial flame burning inside him felt it was time to start something new.
"I did not think too hard when it came to opening up another business. I started a beddings shop in Makindye selling mattresses, nets, bed sheets and blankets," Alex told us.
Everything was looking up at this time, as he was promoted from just being a salesperson to heading the sales department in the mattress company. With a busier schedule, Alex realised it was time to let go of the hawking business and sold off the stock he had left, reinvesting the proceeds as capital in his Shs6m in Makindye. The young businessman has since secured a plot of land in Gayaza and is now looking to set up apartments.