Singer A Pass is a man of his own rules. A few years back, the "Tuli Kubigere" singer set tongues wagging when he showed up for Urban TV interview in sandals. Well, most expected a more dapper appearance for such an audience. Fast forward, the singer exported his unorthodox style to kenya last week. He appeared on Kenya's Citizen TV, in sandals, yet again.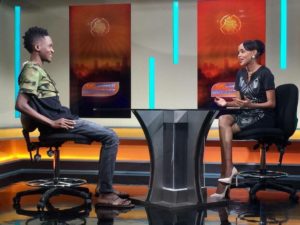 A Pass too to Facebook to explain why he prefers to wear sandals.
"I choose not to do what many think I should do, I choose to be the boy who does things his way. Some people out there will buy a watch, a nice shoe, nice clothes, etc and go out hoping and praying that other people can look at them. I put on sandals because I love them with a passion, I will always be me at all times, I am Bagonza Alexander Aka A Pass . I am not a movie actor. Guys stop acting. One day am going to wake up when it's cool for you to go about your business in a different way. I am here to make it cool for someone to be himself and never apologize for it", he stated.