In neighbouring Rwanda, incumbent Paul Kagame has won the election with 99% of the vote, an improvement from the 2010 elections 93%.
The election gives Kagame mandate to rule for another seven years but he could rule up to 2034 if he wishes it because of a 2015 constitutional amendment that also allowed him to contest in this election.
Constitutional amendments are not new to African politicking as our own President Yoweri Kaguta Museveni is still in power 31 years later, thanks to a constitutional amendment that lifted two presidential term limits in 2005 to indefinite.
Kagame seems to be a good student of Museveni whom he fought alongside in the 1981 bush war that brought him to power. They also both attended Ntare School in Mbarara, though during different times.
While Kagame is sorted until 2034, Museveni now has to grapple with the age limit that bars anyone above the age of 75 from contesting in the elections.
Museveni will be 76 come the 2021 elections, but already machinations are underway to lift the upper age limit in constitution.
Back in Rwanda, Kagame said the election is the will of the Rwandan people, despite opposition from observers outside Rwanda that believe Kagame shouldn't have allowed amending the constitution to allow him stand even this year.
"This election was criticised so much due to me continuing to be your leader, especially people from outside the country because they oppose the will of Rwandans," he told supporters, according to AP.
"But Rwandans have shown that it was not manipulated by anyone but their own will."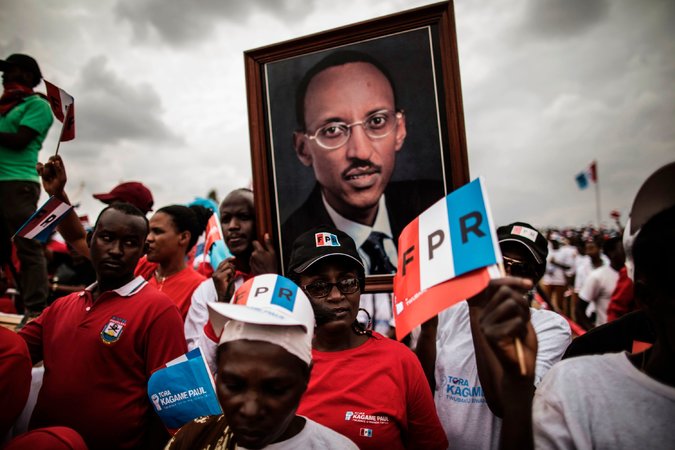 59-year-old Kagame has been at the helm of leadership since 1994 when the RPF rebel group he led captured power. He served as Vice President and Minister of Defence under Pasteur Bizimungu but assumed the presidency in the year 2000 after Bizimungu resigned.
Bizimungu started his own party following his resignation, but this was quickly banned for "destabilising the country". He was subsequently arrested and convicted of corruption and inciting ethnic violence. He was imprisoned until 2007, when he was pardoned by Kagame.
Kagame is praised for taking Rwanda and it's 12 million people past the genocide it was previously known for to a beacon of development in Africa but criticised for being stifling opposition.
The other two candidates in the presidential race Frank Habineza of the Democratic Green Party of Rwanda and former journalist Philippe Mpayimana scored 0.45 and 0.72 respectively.