She's among up to twelve people reportedly shot dead during demonstrations in the western city of Kisumu and slums around Nairobi. Wycliff Mokaya said his daughter was killed by a stray bullet while on their third-floor balcony in the capital's Mathare slum.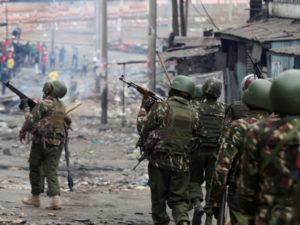 "I was watching her play with her friends when she suddenly fell down," Mr Mokaya said. "She was my only hope."
His daughter is one of a growing number of people killed during protests following the re-election of President Uhuru Kenyatta.
A security official said nine young men shot dead in the Mathare district overnight have now been bought to the city morgue.
The official believed the men had been killed by police in anti-looting operations.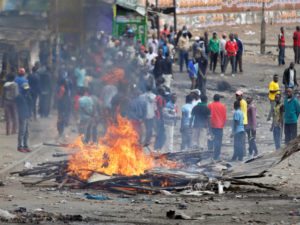 Demonstrations have largely taken place in opposition strongholds, but have generated comparisons with the disputed 2007 election which led to two months of ethno-political violence that left 1,100 people dead.
Protests in the Kawangware slum in Nairobi have left burning tyres, debris and looted shops following running battles between opposition supporters and police.
Two more fatal shootings have also been confirmed on the outskirts of Kisumu, an area where opposition leader Raila Odinga enjoys strong support.
Mr Odinga has claimed his loss was down to vote rigging and said the election was a "charade".