Following Saturday's incident where veteran UPDF top Officer Brig. Kasirye Gwnga set a contractor's tractor ablaze over an alleged case of land grabbing, he has revealed that his action was in attempt to rescue the land.
According to the retired Brigadier, the land belongs to his son who is away in United States of America.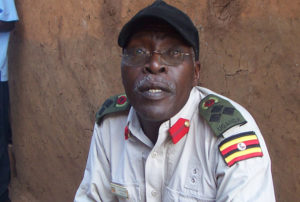 "The land belongs to my son who is in the States. I cannot allow anyone to play on it like that', he stated.




Kasirye narrated that he first received a phone call from neighbors informing him that unknown people had invaded his land.
"I saw this as a joke but I quickly came to see those who were clearing my land", he explained.
"Me I don't make mistakes because I hate being asked questions. All those blaming me should first ask themselves what the tractor was doing in my land. This was land grabbing and I don't tolerate with that."
However, Kasirye disclosed that up to now he is not yet sure of who were behind the land grabbing.
"I want those who claim that it's their land to come out. I hear they are from the royal family but I know all the members of the royal family because I grew up with them. So who are these ones?" he reacted.
During the weekly police briefing yesterday, Kampala Metropolitan Spokesperson, Emilian Kayima said that no one has recorded statements pinning Presidential Adviser on Security, Brigadier Kasirye Gwanga but investigations into the matter commenced.