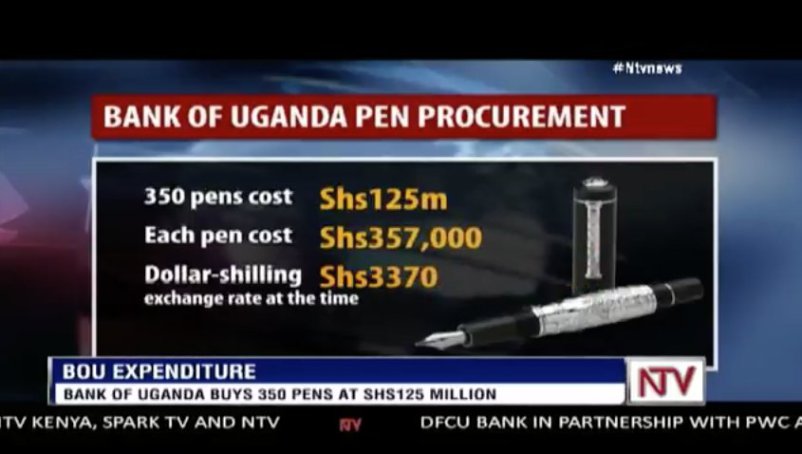 Yesterday, it was revealed that Bank of Uganda spent Shs125m on 350 pens, to commemorate the 50th anniversary of the bank, meaning that each pen cost Shs357,000.




NTV broke the story indicating that the pens were procured through Aristoc Booklex Ltd.
Bank of Uganda Communications Director, Christine Alupo, told NTV that the money was used not just to procure pens but also other memorabilia for the high profile local and international guests.
Ugandans have taken to social media to poke fun at the extravagant expenditure by the bank.
The #BOUpens had security chips embedded in them to protect Bank Of Uganda's WIFI password. Surely you can appreciate the caution here!

— Joseph Owino (@JosephOwino) August 16, 2017
Details emerging indicate that BOU pens have a thermometer,nail cutter,multiple phone charger,breathalyzer,lightning conductor,detect cancer

— Kanyomozi District (@PatriqKanyomozi) August 16, 2017
Goord morning to all those that still use pens that cost 500 shillings. The rest of you can pick ur good morning from @BOU_Official pic.twitter.com/uAraHbRt0l

— Patoranking (@pyepar) August 16, 2017
Do the #BOUpens come with auto correct? pic.twitter.com/OXTURDf91Z

— Cee (@maaso_ana) August 16, 2017
Hw I write with the @BOU_Official pens that cost 357,000 shillings pic.twitter.com/o9y4R5qdpY

— Patoranking (@pyepar) August 15, 2017
We finally found the pen used to write the 10 commandments handed down to Moses! #BOUPens

— Edwin Junior (@edwinejnr) August 15, 2017
I think the conversation on the #BOUpens should not be on the cost but on the management ethic. The pens exist #PoorMgtPoorerCommunities pic.twitter.com/Slib6ZyB4c

— Danny T (@DannyT_UG) August 16, 2017
One's wisest addition to our already glittering bowl of mind-numbing fuckery is to spend 125m on pens. We are all going to hell. #BOU

— Muliisa (@I_Muliisa) August 15, 2017
When I grow up, I want to supply @BOU_Official with pens pic.twitter.com/RSBQv0CgPK

— Ganzi Muhanguzi (@GanziMuhanguzi) August 15, 2017
BoU used 125M to buy 350 pens meaning each pen cost 357k. Do these pens use mercury, urine or acid instead of ink?
Wabula kiri Uganda

— muyita joel (@muyitajoel) August 15, 2017
Sample #BOUPens @BOU_Official pens shortly before being ? to Uganda from India ?? pic.twitter.com/Nf6cz6ygE6

— Cephas Tendereza (@CephasTendereza) August 15, 2017
Maybe BoU bought those pens like in the Bond movies that double as explosives

— Van Guma ?? (@markopolo94) August 16, 2017
Goats bought UBC and you are wondering how #BoUPENs were bought that much! pic.twitter.com/AcNe0v5tI5

— Michael Twinokwesiga (@Twinokwesiga) August 16, 2017
How do pens that cost shs 350,000 each write? May i need to order one from @BOU_official to improve my handwriting.

— Arinaitwe Victor (@arinaitwevicto1) August 15, 2017