The 2017 Young Achievers Awards winners who were announced on August 12th, 2017 during an auspicious gala at the Kampala Serena Hotel coinciding with the International Youth Day, have received 5 million shillings support from the government to scale up their ideas and innovations.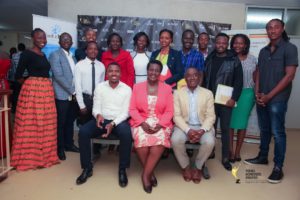 The support, was handed over to each of the winners at a meeting convened by Hon. Amelia Kyambadde, the Minister of Trade, Industry and Cooperatives at her offices. Hon. Amelia had promised to hand each of the winners 500,000 UGX while receiving the Star Hall of Fame Award at the award gala night.
"I had promised to hand each of you 500,000 UGX but when the president (H.E Yoweri Kaguta Museveni) heard d about this, he called me and directed me that the government will give each of the winner 5,000,000 UGX." Hon. Amelia Kyambadde said at the meeting.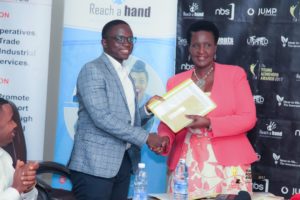 Speaking at the meeting, Humphrey Nabimanya the Team Leader and Founder of Reach A Hand Uganda called on the government to invest in young people if we are to realize their potential. He also emphasized that the Young Achievers Awards program is a full year program that will see nominees and winners connected to opportunities with lawyers, funders and mentors to help them become better entrepreneurs, innovators and change agents.
Awel Uwihanganye one of the Co-Founders of the Young Achievers Awards thanked the government for supporting youth livelihoods projects like the awards that reward innovation, excellence and hardwork of young people.




Zilla Mary Arach the 2017 Overall Young Achiever, gave a note of thanks to the awards organizers Reach A Hand Uganda together with partners who have are inspiring young people to live up to their dreams and aiding their launchpads using the Young Achievers Awards platforms.
The meeting was attended partners Jump by Vodafone and NBS Television. NBS offered a free platform to all winners to showcase their innovations and help motivate other young people.