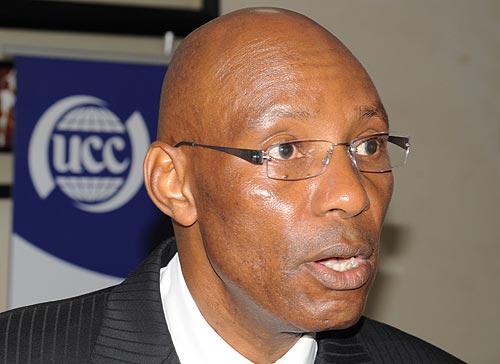 Uganda Communications Commission (UCC) has stopped all radios and TVs from broadcasting events as they happen or what many term as live coverage. This is contained in a communiqué issued yesterday by the UCC Executive Director Godfrey Mutabazi and seen by
Matooke Republic.
"The commission has noted with concern that both radio and television broadcasting operators are relaying live broadcasts which are inciting the public, stirring up hatred, promoting a culture of violence among the viewers and are likely to create public insecurity or violence," reads the statement in part. Mutabazi adds: "The commission hereby directs all broadcasters to immediately stop and refrain from broadcasting live feeds which are in breach of the minimum broadcasting standards and the best practice guidelines for electronic media coverage/ reporting and broadcasting of live feeds." However, many Ugandans have interpreted the directive as one meant to stop media houses from broadcasting parliamentary sessions live. Yesterday, the public was glued to live proceedings in Parliament, where opposition MPs in a bid to stop the proceeding of the Presidential Age Limit Amendment bill wreaked havoc, throwing chairs and endlessly singing the national anthem until speaker Rebecca Kadaga was forced to adjourn the house. UCC is a body Corporate established under Section 4 of the Uganda Communications Commission Act, No. 1 of 2013 to regulate the telecommunications, radio, television and postal and courier services industry in Uganda. Section 31 of the Act prohibits any person from broadcasting any programme unless the broadcast or programme complies with Schedule 4 to the Act which provides that a broadcaster or video operator shall ensure that; Any programme which is broadcast
Is not contrary to public morality;
Does not promote the culture of violence or ethnical prejudice; among the public, especially the children and youth;
In the case of news broadcast, is free from distortion of facts;
Is not likely to create public insecurity or violence;
Is in compliance with existing law;
Programmes that are broadcast are balanced to ensure harmony in such prgrammes;
adult-oriented programmes are appropriately scheduled;
where a programme that is broadcast is in respect to a contender for public office, that contender is given equal opportunity on such a programme;
Where a broadcast relates to national security, the contents of the broadcast are verified before broadcasting.
Tusiime.chris20@gmail.com