Since we live in a digital age, after the fracas that unfolded at Parliament yesterday, speaker Rebecca Kadaga perhaps sought it wise to give her fair share of the experience on her Facebook page.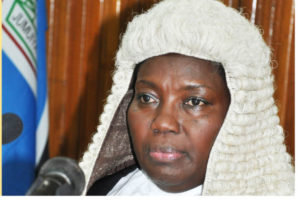 She shared the words of Henry Martyn Robert (May 2, 1837 – May 11, 1923),an American soldier, engineer, and author who published the first edition of the manual of parliamentary procedure, Robert's Rules of Order, which remains today the most common parliamentary authority in the United States.
"Ignorance of the rules and customs of deliberative assemblies is a heavy handicap to anyone who expects to influence the policy of a society", he posted with a black and white photo of the MPs in the melee.However, her fans trolled her mercilessly as they expressed disgust and disappointment.
"In an expiring military dictatorship, how does one talk of rules, procedure or even policy?" Stella Nyanzi commented attracting over 523 reactions at the time of writing this.

"I used to love your neutral stand but am disappointed with your decisions to chase away all brilliant leaders and allow SFC to take over the country in a brutal manner….. Madam Speaker do you really love your country and do you really love peace… Am disappointed with you!!!!!! Uganda belongs to Ugandans not Rwandees", another commented.

"Thank u mi fellow musoga for being used we hard too much trust in you Hon: Naigaga we not happy with you any more its better u distance your self from this Nosense, think twice let da history of Uganda not judge u hardily", a disgruntled fan commented.
For those who are here to read comments, here you go.

Some went personal.