Bebe Cool is a real man. A very romantic lover! Apart from PDA, the singer does not miss the precious moments to shower his wife Zuena with love! So, you ought to be aware that Zuena and Bebe Cool are soon welcoming another child to the household.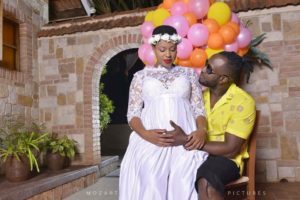 As the times dictate, her relatives and friends threw a beautiful baby shower. Zuena was so moved by the gesture that her words might make me teary. Awwww….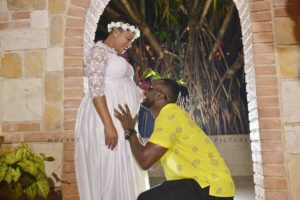 "I don't know where to begin from, 15/10/17 is a day to always remember and cherish in my life…not only was it my baby shower but a day to know the meaning of true friendship.
So my sister Mimi Amina makes a dress for me and tells me we are going for a photo shoot,she need photos to hang in her shop at equatorial mall with all my excitement i start preparing,she takes me to @Imani Makeup studio and a good a hot facebeat then to Divino for my photo shoot. I Mozart pictures who leads us to a setup & I start posing all my bu cool poses then he tells me we move to another location indoor,I take my excitement with me only to find all my friends there who are screaming surprise truth be told i was soon peeing in my beautiful white dress. I don't know how to thank these ladies coz i think i've thanked them enough that they are soon beating me up", she shared on Facebook.