As medics under their umbrella body Uganda Medical Workers Association today announced the commencement of their strike, their counterparts in Luweero district have vowed to keep working until they meet president Museveni over the issue.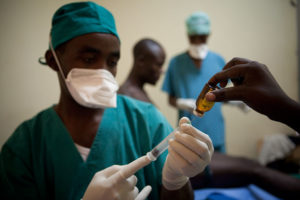 The head of Luweero hospital, Dr Sarah Ongobi said that even though they are going through getting little pay, they have been officially informed by the medical council to wait for what will come out of their November 17 meeting with the president so as to decide on what next.
"We have decided to keep working because we heard that medical council spoke to President Museveni who promised to rectify the issue. So we think it is wrong to put down our details before giving time to the president to talk to us," Ongobi said.
She added that people seeking medical attention in Luweero hospital have increased to 350 per day and these cannot be left to die.
Ongobi argued that industrial action is not the only solution, adding that peaceful negotiations can take place as working continues.
Enosh Muwanga, the hospital's welfare manager said that depsite the poor working conditions, patients still deserve to be treated.
"Today we received over 200 patients. These people are our brothers and our mothers; we can not leave them to starve and die," Muwanga said.